RECIPE: Honey-Glazed Lamb and Zucchini Gratin
Courtesy of National Honey Board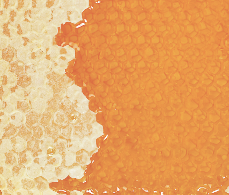 Ingredients:
8 lamb chops

4 tbs. olive oil, divided

3 cups diced onion

3 cups diced zucchini

2 cups diced fresh tomatoes

4 tbs. chopped fresh mint, divided

2/3 cup honey

2 tsp. ground cumin

1 tsp. minced garlic

salt and ground black pepper, to taste
Preparation:
Season lamb chops with salt and pepper. Heat 2 Tbs. olive oil in a skillet over medium-high heat. Brown chops 5 to 7 minutes on each side; remove from pan and keep warm. Drain fat, leaving any browned bits. Add remaining oil and onion; cook over medium heat until softened. Stir in zucchini and cook until tender-crisp. Stir in tomatoes and 2 Tbs. mint; cook about 1 minute. Meanwhile, in small saucepan, combine honey, remaining mint, cumin, garlic, 1⁄4 tsp. salt and pepper to taste. Cook over low heat until honey is thinned. To serve, spoon vegetable mixture onto a plate, top with lamb chop and drizzle with honey glaze.