Retreat & Reflect
Find enlightenment at Omega Institute for Holistic Studies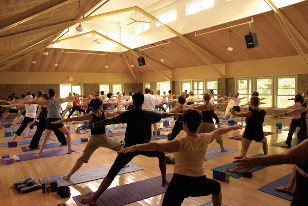 Splashing in the lake, spiking volleyballs, snacking at picnic tables and singing together under the stars—what sound like fond memories of childhood sleep-away camp are actually just a few of the activities that abound at Omega. A nonprofit holistic healing center located off the beaten path in Rhinebeck, N.Y., Omega is a perfect place to steal away for a few nights of self-reflection, positive thinking and healthy, sustainable living.
The center offers learning workshops and conferences on various topics relating to health in the mind, body and spirit. When planning my visit, I opted for a three-day R&R retreat— a fairly new program in which visitors can stay on campus and participate in specially designed activities without the regimented schedule of a workshop.
On the first night, after checking in and exploring the sprawling campus, I settled in with other R&R-seekers at the center's library for a showing of the documentary No Impact Man, which follows a writer, Colin Beavan, and his family as they embark on a year of living in New York City without creating waste. Beavan participated in a question-and-answer session following the film. Afterward, flashlight in hand, I retreated to my simple rustic cabin with a quaint wooden porch in front, perfect for reading and reflecting.
The rest of the weekend was a blur of mini workshops—from a group Reiki session to tarot card readings to dance and yoga classes—and outdoor activities, like swimming and canoeing in the lake and hiking, all enjoyed with a group of friends I made at the center. Each evening featured an entertainment option—these included kirtan (chanting and response) and a performance by a harpist.
Despite the packed schedule, I still found time for quiet meditation in the center's sanctuary, which featured a tranquil, Japanese-style pond complete with water lilies and frogs. An earlier visitor had used rocks to spell out the words "you are loved" near the entrance, welcoming visitors to the sacred space.
For those who need a little pampering for the body as well as the spirit, the Omega Wellness Center offers a menu of massages, facial services and more.

And speaking of menus: Meals, included in the room rate, are served three times a day, when visitors line up in a buffet, fill their plates with locally sourced vegetarian fare and eat on picnic tables outside. A café on the other side of campus stays open into the late evening, serving baked goods (regular and vegan), ice cream (dairy and soy) and coffee and tea.
I left Omega with a clear mind and a lifted spirit, but the most rewarding souvenir I took home was a close friendship with several individuals who, like me, live in the New York City area and are eager to return to Omega as a group. Single-room rates start at $538 (includes two nights), plus an R&R fee of $25–$38 per day (waived during May). —Liz Donovan