Richard C.E. Anderson, M.D., FACS, FAAP • Anthony D'Ambrosio, M.D., FAANS • Gaetan Moise, M.D., FAANS • William S. Cobb, M.D., PH.D., FAANS
Neurosurgeons of New Jersey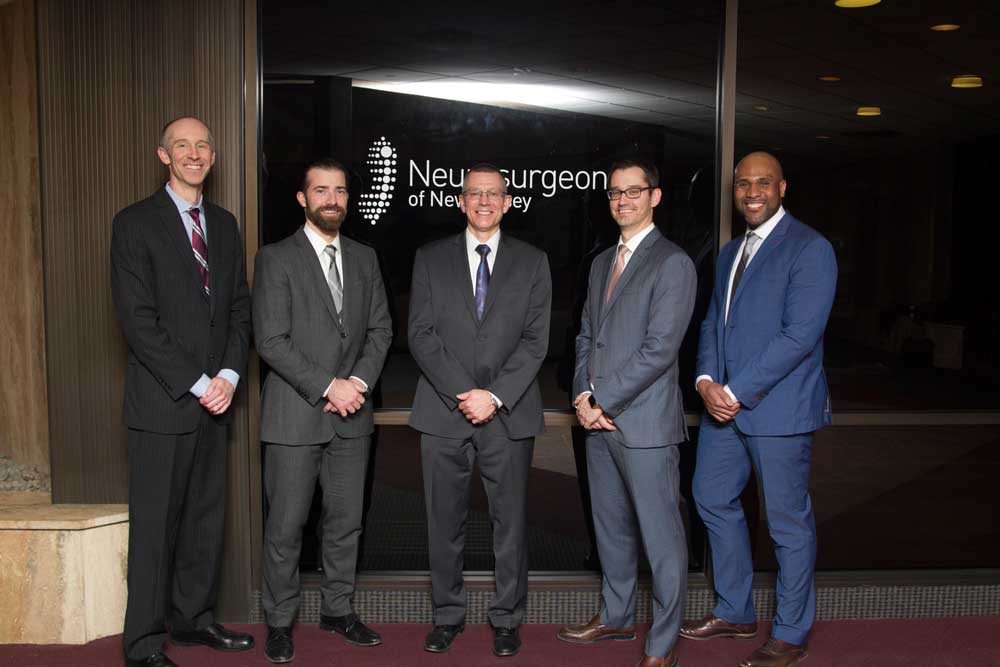 NEUROSURGEONS OF NEW JERSEY brings together a highly specialized group of physicians who have made it their mission to save lives. Through a rigorous residents program and strong ties with Columbia University, Neurosurgeons of New Jersey is recognized as one of the largest groups in the country, but it's a passionate commitment and standing reputation in New Jersey that has secured their esteemed place throughout the state. With all practice physicians living in New Jersey, the doctors agreed it felt right to devote their combined loyalties and efforts to helping their own community. Now seven offices are located across the state from as far south as Toms River and north to Ridgewood with one office in New York City.
Neurosurgeons of New Jersey is committed to providing patients with the most appropriate evidence-based approach for addressing their particular neurological condition. Each neurosurgeon in the practice has trained to develop the highest degree of specialization in their chosen discipline—a unique model recognized by peers and the broader medical community—developing into one of the most sub-specialized groups in the area. This level of top-notch and trusted neurological care is the reason why patients are referred through a network of doctors in varied disciplines of medicine including oncologists, pain management specialists and other neurologists. Through specialized expertise and cross-discipline consultation, the surgeons are able to bring clarity to complex situations and achieve excellent outcomes. "The technology used in neurosurgery is changing all the time. Every day, science and technology take this rapidly evolving specialty to advanced levels. At Neurosurgeons of New Jersey, we have an unwavering regard for new treatments and remain steadfast in our work toward trailblazing new approaches," says Dr. Anthony D'Ambrosio, a brain tumor specialist. "But it's also good old fashion communication and our patient-centered approach that is the source of doing good for our patients."
Neurosurgeons of New Jersey is proud to be affiliated with the most respected medical facilities in New Jersey. Many of the surgeons actively serve their patients at The Valley Hospital in Ridgewood, rated one of the top 5% in the nation for cranial neurosurgery as well as the recipient of the 2017 Cranial Neurosurgery Excellence Award and a Five-Star Recipient for Cranial Neurosurgery.
The practice is highly skilled in Gamma Knife radiosurgery, a very precise form of therapeutic radiology that uses beams of highly-focused gamma rays to treat small to medium size lesions, usually in the brain. Through their affiliation at The Valley Hospital, one of the first hospitals in the U.S. to offer a noninvasive, radiosurgical technology Leksell Gamma Knife Icon, the surgeons can now treat virtually any location in the brain with ultrahigh precision without the head frame used in most gamma knife treatments.
From children to adults, the goal is to deliver compassionate care to help patients achieve the quality of life they deserve. Healthgrades has recognized Neurosurgeons of New Jersey with a Five-Star rating for their excellent work in neuroscience and stroke. The group participates in almost all insurance networks and has an insurance specialist on staff to help patients manage the complex insurance process.
1200 East Ridgewood Ave., Suite 200, Ridgewood, NJ 07450 • 201.775.9234 • neurosurgeonsofnewjersey.com