Rooting for you
The versatile radish adds color, crunch and a whole lot of flavor to food—and it's good for you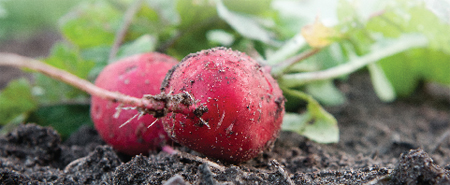 Did You Know?
Radishes, first cultivated in China thousands of years ago, have enjoyed an almost cult-like reputation in certain parts of the world. In ancient Greece, the vegetable was so revered that gold replicas were made and offered to the god Apollo. In Oaxaca, Mexico, radishes have their own festival, celebrated each year on December 23. During "Night of the Radishes" (Noche de Rábanos), talented townspeople show off sculptures carved from giant radishes—some weighing nearly seven pounds.
Radishes reached Massachusetts in the early 1600s, and today Americans eat more than 400 million pounds of the root a year.
POWER UP
A favorite snack food for waist watchers, radishes are low in calories (less than 20 per cup) and digestible carbohydrates, but high in water content and fiber—characteristics shown to satisfy the appetite. Radishes are also rich in vitamin C, folic acid and anthocyanins, which help stave off heart disease and protect against colon and liver cancers. They have diuretic and detoxifying properties as well, helping to flush toxins from the liver, kidneys and gallbladder.
Buy · Store · serve
There are many types of radishes, and they vary in flavor and sharpness from the popular petite, juicy, crisp orbs known as red globes to the more pungent, turnip-like (in shape and size) black radish, which is often found in Russian and Polish cooking. Daikon radishes are beige in color, have a carrot-like shape and are spicier than their red globe cousins, while Korean radishes are vibrant jade green, large and squat, with a sweet flavor.
When purchasing, select bright, firm radishes with smooth, unblemished surfaces and fresh, perky greens. Be sure cello radishes are firm, well formed and free of blemishes, mold and cracking.
To store, remove the greens. Wrap radishes in damp paper towels, place in a plastic bag and store in the refrigerator for a few days. Cello radishes should be left in the plastic bag and can be kept in the refrigerator for up to two weeks.
Enjoy radishes raw, cooked or pickled (see recipe). Add thinly sliced radish to salads or dip a few red globes into hummus for a healthy snack. Get creative…and don't underestimate the versatility of the humble radish. —Kathleen Keating
RECIPE
Pickled Watermelon Rind with Radishes
Courtesy of Whole Foods Market
Ingredients
2 cups apple cider vinegar
1 cup water
½ cup sugar or honey
1½ tsp. salt
1 tsp. whole cloves
4 small dried chiles
4 wide strips lemon peel
1-inch piece ginger, peeled and thinly sliced
1½ pounds peeled watermelon rind, cut into
¹⁄³-inch chunks (about 5 cups)
8 radishes, cut into small wedges
Preparation
Place vinegar, water, sugar or honey, salt, cloves, chiles, lemon peel and ginger into a medium pot, and bring to a boil over mediumhigh heat. Add rind, reduce heat, cover and simmer until rind is tender and translucent, 8 to 10 minutes. Uncover pot and stir in radishes. Ladle into glass jars, seal tightly and chill overnight. Store in the refrigerator for up to 2 weeks. Use as a condiment or serve as you would chutney with grilled meats.