Rustic, Redefined
Tradition is celebrated and change embraced in a reinvention of an iconic local restaurant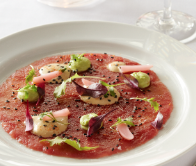 The Saddle River Inn is no newbie on the North Jersey foodie scene. But under new ownership, this Zagat-rated rustic restaurant, known for its romantic ambiance and refined French cuisine, was given a modern makeover.
Last year Hans Egg, who owned the inn for 31 years, sold it to Nutley resident Jamie Knott, the former executive chef of Manhattan's Artisanal Fromagerie and Bistro, and David Madison of Ramsey, who has worked for celebrity chefs Jean-Georges Vongerichten and Tom Colicchio. Egg officially passed the torch to Knott and Madison in January, and after closing the inn for renovations, the pair reopened its doors last February with a new-and-improved menu and design.
Longtime patrons will still be able to order some of the dishes they've enjoyed for years—for instance, the popular filet mignon entree and crabmeat salad are still featured on the new menu. "We were delicate in our approach to the menu because we wanted the transition to be smooth for the people who have been coming here for years," says madison. "We didn't want to stomp on their memories." The menu, which Knott describes as "contemporary French with a new American influence," will change each season to highlight locally sourced ingredients. "I'm always tweaking the menu based on what's in season," adds Knott.
Other upgrades include a new hostess station, an expanded kitchen and a redesign of the interior. "We went for a contemporary and modern look but kept it rustic," says madison.
The inn is BYOB and is open for dinner service Tuesday through Saturday. —Liz Donovan
ROASTED BEET SALAD WITH WALNUT VINAIGRETTE
courtesy of Jamie Knott, executive chef of Saddle River Inn
INGREDIENTS
Vinaigrette
1⁄4 cup canola oil
1⁄4 cup walnut oil
2 Tbs. toasted walnuts
1 Tbs. dijon mustard
1/8 cup red wine vinegar salt and pepper, to taste
Salad
1 lb. beets (red, golden or a mix of both) 2 Tbs. olive oil
2 Tbs. sherry vinegar
1 cup water
salt and pepper, to taste
3 heads frisée, chopped
2 endives, sliced
1⁄4 cup candied or toasted walnuts 1⁄2 cup goat or blue cheese
PREPARATION
Vinaigrette
Puree oils and walnuts in a blender. Add mustard, vinegar, salt and pepper, and blend until smooth. Set aside.
Salad
Preheat oven to 350° F. Trim stems from beets, and place heads in a shallow baking pan. Drizzle beets with olive oil, sherry vinegar, salt, pepper and a cup of water, and cover with aluminum foil. Roast for 1 hour and 20 minutes. When beets are cool enough to handle, use your fingers to remove the skin and cut beets into cubes. Arrange beets on a plate with frisée, endive, walnuts and cheese. Season with salt and pepper, and drizzle with vinaigrette. SERVES 5