Save that Skin
Our editor's picks for SPF products.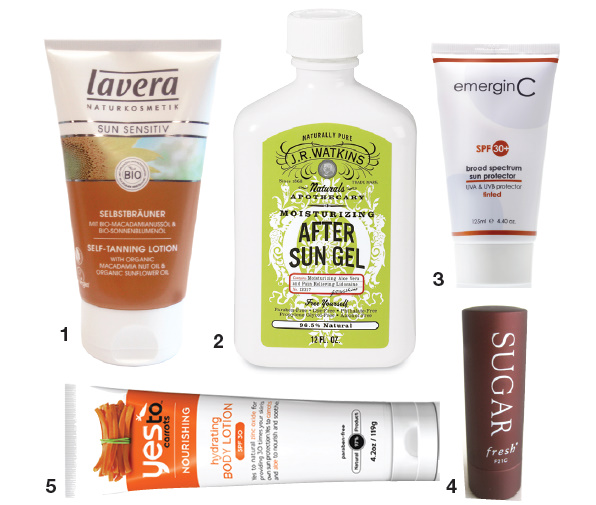 The average sunblock can protect you from the sun's unforgiving UV rays, but what protects you from the harsh chemicals in that sunscreen? Ingredients in some sunscreens (oxybenzone, padimate O and sometimes avobenzone, for example) can be irritating to your skin, says Naana Boakye, M.D., of Bergen Dermatology (201.567.7546, bergenderm.com) in Englewood Cliffs.
"Sunblocks that stay on the surface of your skin are less likely to cause a skin reaction than the ones that are absorbed into the skin," says Dr. Boakye. "So if your skin is sensitive, look for a product that includes titanium dioxide or zinc oxide. Such products are physical [surface] rather than chemical [absorbing] sunblocks."
To stay sun-smart and skin-safe this summer, check out some of our editor's picks for SPF products:
1 For a summer glow sans the sun, pick up The Perfect Tanning Kit by Lavera, $30. Whole Foods, Paramus, 201.226.1244.
2 To soothe skin and retain your tan, try the J.R. Watkins After Sun Gel, $9. Target, Hackensack, 201.678.0599.
3 For a little concealing and a lot of UV coverage, try Vitamin C-enriched EmerginC Tinted Sunscreen, $37, with SPF 30. emerginc.com
4 Nourish, protect and plump your lips with Sugar Lip Treatment by Fresh, $23, with SPF 15. Sephora, Paramus, 201.845.7071.
5 Yes to Carrots Hydrating Body Lotion, $15, has SPF 30 protection and is made with vitamin-rich carrots. Whole Foods, Ridgewood, 201.670.3884.
---
Related Read: Get Outside This Summer!