Seize the Summer!
23 Ways to make this season in the Garden State a hot time you'll remember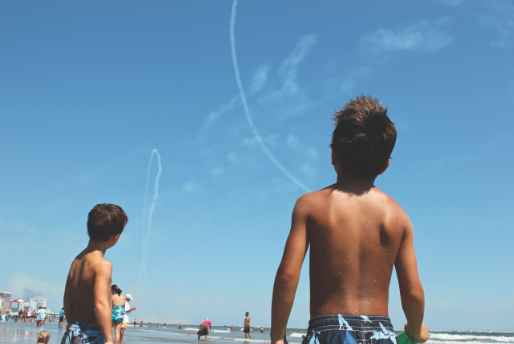 by Audrey Regan Solarino
Yes, last fall's Superstorm Sandy hit our state with a mighty blow. But summer in New Jersey—from the beaches of Cape May to the Kittatinny Mountains—is most definitely on. And there are pleasures to suit every taste, as this highly selective list makes clear:
For Thrill Seekers
Turn your gaze upward for two of the area's most exciting air shows. (Note: You might want to bring earplugs for the kids.)
Atlantic City Airshow: 11 Years of Thunder Over the Boardwalk. The second-largest air show in the country, this perennial favorite has been moved from August to June this year—specifically, to June 26 from 10 a.m. to 3:30 p.m. Amazing aerial stunts and flying performances by groups such as the U.S. Air Force Thunderbirds and the U.S. Army Golden Knights can be viewed from anywhere on the Atlantic City beach and Boardwalk. Free. Visit atlanticcitynj.com.
The Greenwood Lake Air Show is
 a heart-stopping experience with some pretty high-voltage aerial acts. Check out stunt favorite Jane Wicker as she does "wing walking" and more on her vintage Stearman—with no safety line
or parachute. There's a jet-powered funny car, living history exhibits and much more. Tickets are $10 for children, $25 for adults. August 16, 17 and 18,
 10 a.m. to 5 p.m. Greenwood Lake Airport, 126 Airport Rd., West Milford. Check out greenwoodlakeairshow.com.
For Shore Zealots
Find your bliss in these time-honored amusements:
If you're looking for that vintage Jersey Shore boardwalk experience, you must check out Morey's Piers in Wildwood, with more than 100 rides and attractions, including two water parks right on the beach. Take a connoisseur's tour of the piers, of which there are three: Mariner's Landing at Schellenger Avenue, with classics like Teacups and the Giant Wheel; Surfside Pier at 25th Street, for kiddie rides, family-appropriate thrills and games, plus good eats at Joe's Fish Co.; and Adventure Pier at Spencer Avenue, featuring Xtreme rides, the Grand Prix Raceway and the famous wooden coaster The Great White. Then there's "Breakfast in the Sky" aboard the 156-foot Morey's Ferris wheel, which promises an elegant culinary experience while you soar in a gondola over the Wildwoods beach scene. It's $85 per car with two guests; additional individuals $40 each. Finally, check out "artBOX," a 10,000-square-foot interactive artists' village in which local artists and craftspeople can be observed at work. To learn more, visit moreyspiers.com.
Itchin' for a sandcastle showdown? Then the place to be is 18th Ave. and 
the beach, Belmar, July 17, 8:30 a.m. to 1 p.m. (rain date July 31). For 27 years, this beachy bash has been free and
open to all ages. Register to build your own entry, or simply enjoy the imaginative creations, along with dance contests, giveaways, drinks and food from local establishments. Contestants are judged on resourcefulness, originality, creativity and accessories (of the environmentally friendly sort). For more info and photos of past winners, visit njsandcastle.com.
If you're craving a serene beach vacation without the hustle and bustle, spend some quality time in quiet, romantic Spring Lake. Its beautiful stately homes, upscale art galleries and quaint shops say "exhale." For events and information on the town's many bed-and-breakfasts, inns and hotels, visit springlake.org.
For Kids
If summer to you is the sound of children laughing, the smell of funnel cakes and the sight of those sleepy, sticky faces on the drive home, consider these annual New Jersey events:
State Fair Meadowlands in East Rutherford, open from June 21 to July 7, has rides for every age, including an aerial jaunt from one end of the grounds to the other, and a spin on the original helicopter from the 1966 Batman TV series. The price of admission includes free shows: Circus Maximus, with acrobats, clowns and animals; "Rosaire's Royal Racing Pigs"; Steve Bayner's hilarious hypnotism show; and "The Big Cat Show," with lions, tigers and bears. Live music, a kiddieland area, food, games—they're all here. Spectacular fireworks shows take place on the evenings of July 3 and 4. Check the website for pricing information, as there are many options for admission. 102 N.J. State Highway 120 East in Rutherford (next to MetLife Stadium). Call 201.503.8083 or visit njfair.com.
Jersey Shore Jazz & Blues Festival: Formerly known as the Red Bank Jazz and Blues Festival, this musical mega-fest is being celebrated in three towns this summer: Asbury Park, June 8, noon to 8 p.m.; Point Pleasant, July 20, noon to 8 p.m.; and Long Branch, August 24, noon to 10 p.m. Each day features activities for kids and fun for adults (arts, crafts, foods and, of course, beer) in addition to free music from some of the area's best jazz and blues acts. Presented by the Jersey Shore Jazz and Blues Foundation. See jerseyshore festival.org for more information.
The 31st Annual QuickChek NJ Festival of Ballooning, the largest summertime hot air balloon and music festival in North America, will host three days of family fun on July 26, 27 and 28. Held
at Solberg Airport in Whitehouse Station, it features live music, children's shows, rides and other attractions. Watch more than 100 balloons rise at ascensions scheduled for either 6:30 a.m. or 6:30 p.m., when winds are calmest. You might even want to catch the 7 a.m. yoga-under-the-balloons session. Balloon rides start at $200 a person; book early, as they sell out. Tickets are $30 per adult, $15 per child, with substantial discounts for advance purchase online or
at QuickChek stores. Solberg Airport, 39 Thor Solberg Rd., Whitehouse Station; 973.882.5464; balloonfestival.com.
Having begun in the early 1900s as
 a horse show and competition, The New Jersey State Fair/Sussex County Farm & Horse Show (August 2 through 11) has steadfastly maintained its local flavor and hometown charm as it has grown. The state's agrarian life is honored with agricultural exhibits, a horse show, racing pigs, tractor pulls and a petting zoo, all to be found alongside
a massive carnival with live entertainment, food and games galore. Crafty types will not want to miss the offerings in the Crafters' Corner; home cooks will appreciate the many recipe and cooking competitions. Adult admission is $12; for a child age 6 through 12, it's $6 (children under 6 are free). See website for special deals and pricing. Sussex County Fairgrounds, 37 Plains Rd., Augusta; njstatefair.org.
For Fans of Fireworks
Options for you abound, but here are two shows worth traveling for:
Macy's 4th of July Fireworks. You ain't seen fireworks till you've seen the Macy's display exploding above the New York skyline. Viewing is, of course, best on the Jersey side. In Weehawken, Boulevard East has great viewing sites; also prime are spots on the cliffs alongside Boulevard East between 50th Street and Highwood. In Hoboken, both Maxwell Park and Sinatra Drive are great spots to plop. The first boom takes place at 9:20, but plan to get to your viewing spot hours earlier. Visit macys.com/fireworks.
The Annual Oceanfest at Long Branch, an all-day July 4 festival, is known for its spectacular fireworks display over the ocean, and this year—its 23rd—will be no exception. It's the biggest Independence Day party in the state, attracting tens of thousands of visitors. Enjoy live music, sand sculpture, crafts, clowns and sidewalk performers, fun shows and sum
mer food. Oceanfest will take place rain or shine. To plan your day, call 732.923.2044 or visit longbranch.org.
For Lovers of Open-air Theater
You'll enjoy what these venues are staging on summer nights, with crickets chirping along in a delightful outdoor chorus:
To get your fix of the Bard this summer, head to the Shakespeare Theatre of New Jersey's Outdoor Stage at the College of Saint Elizabeth in Convent Station for its annual six-week summer performance. This outdoor amphitheatre seats 400 and is made of grass and stone, so that it resembles the theaters 
of ancient Greece. The lawn around the stage is a perfect place to picnic. Bring a low beach chair or cushion. This year, the stage will be transformed into the Forest of Arden for the comedy As You Like It, from June 19 through July 28. The venue is located at 2 Convent Rd. in Convent Station. For tickets, call the box office at 973.408.5600 or visit shakespearenj.org.
For a delightful evening's entertainment, pack a cushion, some snacks and bug spray (for dusk shows) and head to Washington Crossing State Park in Titusville to see any number of popular musicals and plays this summer. The Downtown Performing Arts Center of Lambertville is putting on an impressive array of performances in the park's Open Air Theatre. This year's roster of shows includes Crazy for You, Joseph and the Amazing Technicolor Dreamcoat, Young Frankenstein, Gypsy, Hair and more. For kids, there's Disney's Cinderella Kids, Jack and the Giant, The Little Mermaid and more. Shows run Friday–Sunday, weather permitting. $10 to $15 admission, cash and personal checks only, unreserved general admission. The open-air theater is located at 355 Washington Crossing–Pennington Rd., Titusville. For more information, call 267.885.9857 or visit dpacatoat.com.
For Those Who Live For the Outdoors
You and your crew will find that the Delaware Water Gap has it all. You can hike to waterfalls, hunt and fish, paddle or swim, ride bikes or horses, and more. The Delaware Water Gap National Recreation Area (nps.gov/dewa) can help you plan your stay. Need help deciding? Our suggestion: Try river tubing. It's three-plus hours of winding down the Delaware, complete with a lunch break at the Famous River Hot Dog Man's site. Learn more at delawarerivertubing.com.
If biking is more your thing, know that one of the nicest biking paths in northern New Jersey is in Bergen County.
The Saddle River Area Bike Path is six miles long and runs through five county parks in the towns of Ridgewood, Glen Rock, Fair Lawn, Paramus, Saddle
Brook and Rochelle Park. You can zoom through or leisurely glide while follow
ing the banks of the Saddle River. Take
 in all the splendor the parks have to offer along the way: ponds, picnic areas, open fields, tennis courts, even a waterfall. To learn more, call the Bergen County Department of Parks at 201.336.7275 or visit co.bergen.nj.us.
Another top biking option is the multi-use path at Sandy Hook in Highlands, part of the Gateway National Recreation Area. Though it sustained damage during Superstorm Sandy, it is expected to reopen this summer. (For up-to-the-minute updates, check the Facebook page of the Gateway National Recreation Area.) Hikers and skaters also use this paved trail, which runs about six miles, from the entrance of Sandy Hook to Fort Hancock. You'll enjoy the sights and sounds of the beach and bay, as well as some nice landmarks, including the lighthouse and a few old military sites.
For Gardeners
You'll be inspired by Greenwood Gardens, a bucolic secret tucked away in busy Short Hills. Reopened this spring after a long restoration, the century-old former estate of real estate mogul Joseph P. Day and, later, Peter and Adelaide Blanchard is a tribute to nature with its winding footpaths, gentle waterfalls, gor- geous ornamental gardens and myriad sculptural gems, all in view of the Wat- chung Mountains and South Mountain Reservation. The gardens will be open Sunday through Tuesday, and tickets must be purchased in advance. Tours and workshops are available. Admission: $10 for adults, $5 for seniors (65+), students with I.D. and children under 12. 274 Old Short Hills Rd., Short Hills; 973.258.4026; greenwoodgardens.org.
For History Buffs
New Jersey's rich past is alive and thriving this summer. Check out two annual events that have become can't-miss happenings:
June 28th marks the 235th anniversary of the Battle of Monmouth, one of the key engagements of the Revolutionary War, in which General George Washington ultimately forced the British to retreat toward New York. It is said that during this battle, an American soldier's wife brought water to thirsty soldiers, giving rise to the legend of Molly Pitcher. Month-long events commemorate the battle, but the big action is on June 15 and 16, when the Friends of Monmouth Battlefield perform a reenactment. That's when you can see drum majors drilling, sentries pacing, enlisted men cleaning their weapons, women of the army at work and much more. Come early for seating and various activities before the "hostilities" commence. Monmouth Battlefield State Park, 16 Business Route 33; 732.462.9616. For more information, visit state.nj.us/dep/ parksandforests/parks/monbat.html or friendsofmonmouth.org.
Jersey's own Morris Canal, an engineering marvel of its day, is celebrated
 at the Canal Day Festival on August 24. The canal, which ran from the Delaware Water Gap to the Port of Elizabeth during the 19th century, achieved elevations higher than the Empire State Building during its trip, and also helped develop thriving towns along its coal-transporting route. The rain-or-shine event is free and will feature live music (rock, blues, country, classical and Irish folk), tasty food and a boat ride down a preserved portion of the canal. Hugh Force Canal Park, 170 West Central Ave., Wharton. The event runs from 10 a.m. to 5 p.m.; fireworks after dark at Robert Street Park. Call 973.989.0237 or visit canalday.org.
For the Science-Minded
Summer storms are no spoilers for the inquiring scientific minds among us. Though indoors, these destinations reveal unknown worlds:
The New Jersey State Museum's Planetarium in Trenton offers a star-studded voyage through the skies. Sit back in its specially designed reclining seats and enjoy its Full Dome Video—digital technology that immerses you in 360-degree views of the solar system and beyond. The planetarium also features educational and entertaining laser shows. (While you're there, check out the State Museum's fascinating archaeology and natural history exhibitions too.) New Jersey State Museum, 205 West State St., Trenton; Tuesday–Sunday, 9 a.m. to 4:45 p.m.; 609.292.6464; statemuseum.nj.gov.
If you'd rather look down than up, 
try out Sterling Hill Mining Museum, Ogdensburg, a little gem in Sussex County. Take the 45-minute underground tour: one-quarter mile of original tunnel, complete with the machinery and metal- working marvels from mining times gone by. (Bring a sweater; the mine can be chilly.) A museum on the premises boasts beautiful specimens of fluorescent rock, one of the largest collections in the U.S. The huge Zobel Exhibit Hall, with more than 12,000 items on display, is a geological education in itself. Kids can "mine" for rock at the large outdoor Rock Discovery Center, too. Prices vary depending on activity. To learn more, call 973.209.6463 or visit sterlinghillminingmuseum.org.
For Epicureans
With more than 10,000 farms and 120 community farmers' markets, New Jersey continues to live up to its Garden State nickname. You can find a full list of community farmers' markets at state. nj.us/jerseyfresh/searches/urban.htm, and small farms that sell their produce abound. Two standouts for fresh picks:
Abma's Farm in Wyckoff has been around since the 1790s. Its 32 acres yield all kinds of produce, free-range chicken (and fresh eggs), fresh turkeys and home-grown pork. And it cooks them too! The farm's "scratch" bakery and gourmet kitchen serve up tasty, homemade, fresh fare daily. 700 Lawlins Rd., Wyckoff; 201.891.0278; open Monday–Friday 8–6, Saturdays till 5:30; abmasfarm.com.
Head to Chester in western Morris County and check out Alstede Farms. With 600 acres, farmed using sustainable and certified organic methods, you can pick your own or purchase everything from apples to gooseberries, not 
to mention corn, tomatoes and beautiful plants and flowers. Enjoy the henhouses, hay towers, friendly farm animals and homemade ice cream. Open seven days a week. 84 County Route 513, Chester; 908.879.7189; alstedefarms.com.