Set the Stage
Selling your home? Don't rely on its inner beauty to shine through. Dress it right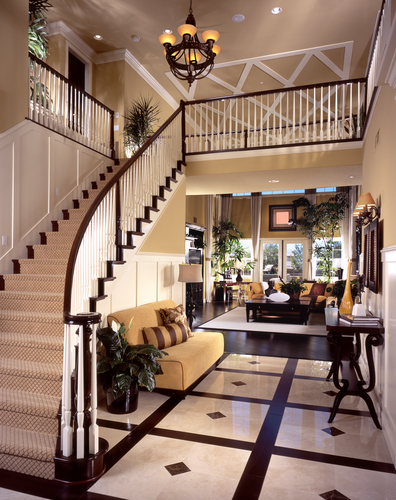 Susan Hayes learned about home staging—styling a house to make it appealing to buyers—by moving 12 times in 15 years before settling in her current home in Chester. After years of friends and family asking for advice about how to make a home enticing, Hayes became certified in interior design and started Re-Feather Your Nest, a home staging and design company also in Chester. Here, her tips:
Got it? Flaunt it.
"Granite countertops, fireplaces, hardwood floors or outdoor features should be put on display. Your countertop appliances or Persian rug may be beautiful, but they should not obscure the view of what will really sell."
Repurpose a room.
"If you have four bedrooms but are using one for storage, turn it into a home gym, office, craft room or library. That way people will remember it as a functioning space, but it will be easily forgettable if it is barren or just housing boxes."
Reduce.
"Removing furniture can instantly make a room open and spacious. That dresser or bookshelf may have a dayto- day function, but that doesn't mean it works for an open house. You want to utilize your space; a cramped table looks cluttered, but an empty curio cabinet implies there is more room than they need—or need to pay for."
Reuse and recycle.
"A big mistake people make is buying furniture just to 'complete' the look of a room. Swapping dressers in rooms or moving a chair from the living room into the study may be all the change you need. There is usually more at your disposal than you think."
Let the sunshine in.
"Venetian blinds or roll-down shades are a great practical piece of hardware, but natural lighting and a view of your neighborhood or yard are what you really want to sell."
The great outdoors.
"People who do not utilize their outdoor space tend to forget that others might want to. So take care to make access to your backyard easy and part of your tour."
Decoration discretion.
"Pictures, throw pillows and accent pieces will make a room inviting and give potential buyers the impression they can be homey there too. You just need to make sure it is not wallto- wall décor; you are selling the house, not the items."
Avoid traffic jams.
"There needs to be a natural and easy way for potential buyers to walk from room to room. If they are shuffling through a maze of furniture or watching their every step, they aren't looking at the house."
Related Read: Your Green Kitchen