Shake It Up
What's in a milk shake? Whatever you like! Local shops offer a twist on the nostalgic treat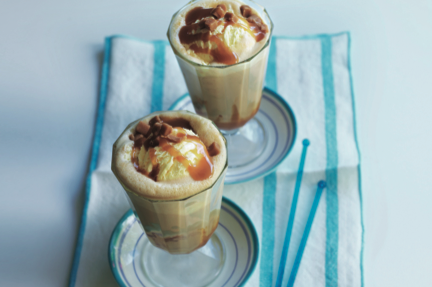 Can I have some cheesecake with that shake? or rather, in that shake? That's right, mix-ins are transforming ye-olde-soda-shoppe milk shakes into the trendiest sips around, with everything from pancakes to bacon—yes, bacon!—getting tossed in the blender. (not to mention, of course, the occasional jigger of bourbon or similar treat.)
Bucu Burgers in Paramus, for instance, offers a unique twist on the classic soda-fountain favorite, and word is spreading quickly: "People come in and say 'I heard you guys have cupcake shakes,'" says general manager Gabi Albarado. She's referring to the restaurant's milk shakes made with combinations of ice cream and baked goods. One of the most decadent concoctions offered there is "Blue Cookie Monster ice cream, which already has chunks of cookie and fudge, with a coconut cupcake," Albarado reports. Bucu's customers can also add a cookie—choose from chocolate-chip, oatmeal, peanut butter and others—to a shake. "We warm it up in the microwave first so it melts into the ice cream better," says Albarado.
If you're hankering for a traditional shake, you can still order
 a black-and-white (chocolate syrup, vanilla ice cream and milk)
 at Conrad's Confectionery in Westwood, where the recipe has stayed intact since 1928. After all, says third-generation owner J.J. Krachtus, that's what people come to Conrad's for. "We're old-school," the 35-year-old proudly proclaims. "We offer what's rock-solid. We do the classics, what everybody likes." That means you won't find anything but homemade ice cream, milk and homemade syrup in a Conrad's shake.
Krachtus also notes an interesting thing about flavor preferences: When it comes to milk shakes, people pick chocolate over vanilla, but for scoops, vanilla is tops. Krachtus can't say why, but he does know this: "Milk shakes are a piece of Americana. They make people happy."
In her book Milkshake Bar, author Hannah Miles offers creative ideas for shakes. Try her recipes, or use them as an inspiration to whip up your own. —Maria Lissandrello