Shore Bet
A local realtor offers tips on finding a beach-house rental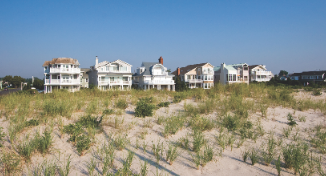 The Jersey shore is intoxicating—the scent of the sea on your hair, the taste of taffy on your lips, the sound of Springsteen blasting from the boardwalk bar, the feel of a soft breeze as you ride the Ferris wheel, the view of the sun rising on the Atlantic. Yes, late last October Superstorm Sandy walloped much of the coast from Sandy Hook to Cape May. But this is Jersey, and not even Sandy could keep the Shore towns from coming back in time for another perfect summer, says Pauline Poyner, a sales associate for Coldwell Banker in its Rumson office and a lifelong resident of Monmouth County. "This is where people make their memories," she adds. "And they're going to continue to do so."
Before you can fill the pages of your scrapbook, you have to plan a sweet getaway, which requires renting the perfect Shore house. Here Poyner offers tips on finding your dream rental:
Make Like a Private Eye:
Start visiting the area to investigate the towns that interest you most. Learn about the culture, what's happening both during the day and at night. Can you easily get to the beach from most places? Are there good takeout restaurants in the area? What's the bar scene like? Would your kids have fun here? What kinds of rentals are available? If it isn't already, will the town be up and running post-Sandy by summer?
Need suggestions? Beachfront North in Long Branch, where you can rent a condo or a tri-level with four to five bed- rooms for the entire summer, offers lots of shopping, restaurants and beautiful ocean views, says Poyner. She also suggests Monmouth Beach for those who want a single-family home that is big enough for an extended family to share. What's neat about that town, adds Poyner, is that you can drive golf carts within city limits and there are three beaches in walking distance of most everything.
Find Your Realtor Soul Mate:
Since your vacation is dependent on finding a great rental, you need to choose the very best realtor for you. You want a licensed professional with whom you can easily communicate, says Poyner. The realtor should be an expert on the towns that interest you most; this means that he or she has a connection with the community, knows where the best rentals are located and is aware of the rebuilding schedule.
Don't Expect a Mind Reader:
Tell the realtor exactly what you're looking for in a rental down the Shore, from size to budget. Don't mince words. Be specific, says Poyner. If you want a rental right on the beach with a certain number of rooms and a backyard for your dogs, say so. If you plan to rent the place all summer and you need to be able to commute to work in New York during the week, make sure the realtor knows. This information allows realtors to help clients pinpoint their dream rentals.