Shore to table
In late summer and fall, fresh-caught local fish is abundant—and delicious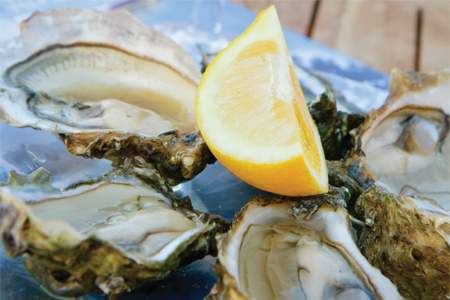 "It's fresher, it's firmer. It smells better and has a richer flavor," boasts Sam LaGrotteria, an account executive from Hammonton, of the fish he catches just off the Jersey Shore. "I spend many weekends fishing for flounder, sea bass, bluefish and seafood, too." And the beauty of that fresh treasure is that it doesn't take much to turn it into a feast. "Throw it on the grill with olive oil and garlic, some fresh vegetables, and you're good," says LaGrotteria.
Not into trolling the ocean waters yourself? No problem—fresh fish is as close as your local fishmonger. The look of the fish tells the tale, says Chef Eric Magaziner of Mud City Crab House in Manahawkin: "If it looks bright and shiny and has little to no smell, you're on the right track. Feel free to ask about the freshness and the origin of the product as well." For seasonal fare, Chef Alex Rogers of Inlet Café in the Highlands recommends the tuna, flounder and mahi that fishing boats bring in from the Atlantic's Hudson Canyon, about 100 miles off New Jersey's coast. Magaziner recommends giving locally caught monkfish a try. "It's plentiful on the Jersey Shore this time of year. The commercial boats bring it in on a regular basis to our docks in Barnegat Light, so it's superfresh, local and relatively inexpensive."
Cooked to perfection
What to do once the fish is in your fridge? Chef Dominique Filoni of Long Branch's Le Club Avenue says a few expert tricks will assure the home cook of perfectly executed fillets every time. First, pick the right pan. Filoni prefers cast iron or stainless steel, which aid in crisping fish skin. Make sure you start with a high flame and heat your pan for about 45 seconds before adding oil for cooking. You don't need much, but it should be of high quality. "I recommend using extra-virgin olive oil or grape-seed oil," says Filoni, who notes that the latter has a higher smoke point (the point at which both flavor and nutrition begin to degrade).
Wait until the oil has just begun to smoke, then add your fillet; after a minute or so, lower the heat to medium. Filoni prefers to cook his fish mostly on one side. "You'll see the fish cook through, then flip for 30 seconds," he explains. Take it out of the pan at medium doneness. Like meat, fish will continue cooking even when it's removed from the flame, so try the touch test to be sure it's ready. "You want to put it between two fingers," says Filoni. "If it's too soft, it's no good; it should be a little firm." One of the biggest mistakes people make is crowding the pan. "If you cook two or three pieces at a time, that's fine," says Filoni, but adding more than that lowers the temperature and yields inferior results. As for seasoning, that's a matter of personal preference. However, for fish that's fresh, moist and at its peak of flavor, the basics will do. "Start with salt, and finish with a few twists of freshly ground white pepper," he advises. "Be sure to do the pepper last, because it will burn if you put it on at the beginning." All that's left to do is to give your fish a squeeze or two of fresh lemon and a scattering of chopped flat-leaf parsley—and enjoy. —Maria Lissandrello
Sea for yourself:
3 delicious dishes
1 – Le Club Avenue's Pan-Seared Branzino with Fork-Mashed Fingerling Potatoes, Shaved Fennel Salad and Tapenade
Chef Dominique Filoni of Le Club Avenue in Long Branch gives branzino a Mediterranean twist with fennel and olives in this light preparation. Serves 6
INGREDIENTS
1½ lbs. large fingerling potatoes
Crushed garlic
Fresh thyme
Bay leaves
About 1 cup extravirgin olive oil
1 Tb. lemon juice
3 lemon segments, chopped
1 shallot, thinly sliced and chopped
2 Tbs. chopped Niçoise olives
2 Tbs. finely chopped Italian parsley
6 large (1–2 lb.) branzino fillets, pin bone out, scaled
2 medium fennel bulbs, outer layer peeled off, cored and thinly sliced
Salt and freshly ground pepper to taste
TO MAKE THE POTATOES: Preheat the oven to 375° F. In a medium salad bowl, toss potatoes with crushed garlic, fresh thyme, bay leaves, just enough extra-virgin olive oil to coat, salt and pepper. Place the potatoes in a single layer on a baking sheet. Cover tightly with foil and bake until the tip of a knife slides easily through a potato. Remove from oven, discard foil and let potatoes sit until they are cool enough to handle. Peel potatoes, then place them in a small pot over a low to medium flame, and mash them coarsely with a fork. Add ½ cup extra-virgin olive oil, continuing to mash the potatoes. Add lemon juice, lemon segments, shallots and chopped olives; add salt and pepper to taste. Stir until the ingredients are blended, and adjust the seasoning and the amount of olive oil to your liking. Add the parsley at the very end.
TO MAKE THE BRANZINO: Set a 12-inch nonstick sauté pan over medium to high heat and add ¼ cup olive oil. Season branzino fillets with salt on both sides. When oil is hot, add fillets, skin side down, to the pan. Gently press and cook until the skin is crispy, about 2½ to 3 minutes. (Be sure to control your flame to prevent fillets from burning.) Using a fish spatula, turn the fillets over and cook on the second side for a minute or two, depending on the size of the fillet. Remove from pan and finish seasoning with a crack of fresh white peppercorns.
Spoon the potatoes into the center of individual plates, and top with the branzino fillet. (Cut fillets in 2 pieces for easier plating if necessary.) To make the shaved fennel salad: Lightly dress the sliced fennel with olive oil, lemon juice, salt and pepper; place fennel salad on top of the branzino and serve immediately.
TO MAKE THE TAPENADE:
7 oz. Niçoise olives, pitted
1 Tb. capers, drained
½ tsp. lemon juice
2 anchovy fillets
½ garlic clove
1 Tb. sherry vinegar
1 oz. fresh basil leaves
Pinch of fine sea salt
Freshly ground pepper
¼ cup extra-virgin olive oil
Combine the olives in a blender with the capers, lemon juice, anchovy, garlic, sherry vinegar, basil, salt and pepper to taste, and the olive oil; blend together into a paste. Reserve in a bowl or squeegee bottle; arrange around the potatoes on the plate.
SERVING SECRET
Preparing a fish feast? Have your guests seated and ready to eat as soon as your fish and seafood are ready. "As fish and shellfish sit, they tend to continue cooking and quickly become subpar," says Chef Eric Magaziner of Mud City Crab House.
2 – Mud City Crab House's Buttermilk Crispy Fried Monkfish with Chipotle Honey Mayo
At Mud City Crab House in Manahawkin, Chef Eric Magaziner makes delicious use of New Jersey's plentiful monkfish in this spicy Southwestern take. Serves 4
INGREDIENTS
2 cups mayonnaise
1 or 2 chipotle peppers (canned with adobo sauce)
2 Tbs. honey
Juice from half a lime
Chopped cilantro or basil (optional)
2 lbs. monkfish tail, skin and membrane removed
2 cups buttermilk
2 cups flour seasoned with salt and pepper
Oil for frying (canola, soybean or vegetable)
For garnish: chopped parsley, lemon or lime wedge
TO MAKE THE SAUCE: Blend mayo, one chipotle pepper, honey and lime in a blender or food processor. (Start with one pepper; add second if you prefer a hotter mayo.) If you like, fold in a little cilantro or basil to add another layer of flavor.
TO MAKE THE MONKFISH: Slice monkfish into medallions approximately ½-inch thick. Dip the fish into the buttermilk and then into the seasoned flour. Heat oil to 350˚ F in a deep, heavy pan (or deep fryer if you have one). Fry fish on each side for approximately 3 to 4 minutes (3 to 4 minutes total if using a deep fryer) until crispy golden brown. It will resemble fried chicken. Drain excess oil from fish onto paper towels. Garnish with chopped parsley and lemon or lime wedge, along with a side of chipotle mayo. Serve immediately.
3 – Inlet Café's Lobster Bisque
Chef Alex Rogers of Highlands' Inlet Café—recently reopened after Superstorm Sandy—takes pride in sourcing and serving the freshest possible seafood, as demonstrated in his prize-winning lobster bisque. Note: If you prefer, you can buy cooked, chopped lobster meat to use rather than live lobsters. But the flavor, Rogers warns, won't be as fresh and intense. Serves 6
INGREDIENTS
1½ sticks butter
1⁄ 3 cup finely chopped white onions
2 garlic cloves, minced
2 live 1¼ lb. Maine lobsters
½ cup sherry wine
1 bay leaf
2 cups water
4 oz. tomato paste
Kosher salt to taste
Pinch white pepper
½ cup finely chopped red pepper
½ cup finely chopped green pepper
1 Idaho potato, peeled and chopped small (reserve in water)
6 oz. all-purpose flour
1 cup milk
1 cup heavy cream
Chervil leaves, or finely chopped chives or tarragon for garnish
PREPARATION: Melt ¾ stick of butter in heavy-gauge pot over moderate heat. Add onions and garlic, and cook about 8 minutes or until translucent. Cut heads off lobsters, then cut down the belly with a sharp knife. Cut lobsters lengthwise in half, and remove the sack, located behind the mouth. Separate lobster into tail, claw and chest pieces. Add lobster sections, shells still on, to onions and cook until shells turn red. Remove lobster pieces from pan and cool (be sure not to overcook—they should be ready in about 5 minutes). Remove the meat from claws and tail, and reserve. Chop up shells into smaller pieces and return to the pot, add sherry and ignite to flame all the shells. Allow flame to dissolve. Add bay leaf, water, tomato paste, salt and pepper. Stir and simmer for 45 minutes or so. Pull out as many pieces of the shell as possible and reserve. When partially cooled, put the rest of the soup through a food mill or food processor (pulse only). Strain soup through a sieve. Add peppers and potatoes, and reduce for 30 minutes on low. When partially cooled, put it through a food mill or processor in small batches, on pulse only. Make a roux with the flour and remaining butter. Bring broth back to a boil, and stir the warm roux into the boiling liquid, whisking vigorously for the first minute. It will re-boil quickly; turn down the flame to a simmer, and let cook for 20 minutes or so. Add milk and cream. Adjust seasoning to taste. You can also add a pinch of your favorite seafood seasoning. Add chopped lobster to finish, and garnish with chopped chives.