Southwest Veggie Burgers
These vegan, gluten-free burgers are a spicy complement to a hot summer night.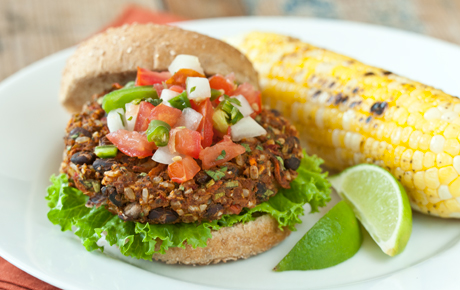 Serves 4
Serve these hearty veggie burgers on whole grain buns with your favorite condiments.
Ingredients
1 cup cooked brown rice
1 cup cooked no-salt-added black beans, rinsed and drained
1/4 cup diced tomato
1/4 cup diced roasted red bell peppers
1/4 cup shredded carrots
1 cup cooked and mashed sweet potato
1/4 cup chopped cilantro
1 tablespoon no-salt-added chili powder
1 teaspoon ground cumin
3 green onions, finely chopped
3 tablespoons nutritional yeast
2 cloves garlic, minced
1 teaspoon Tabasco or other hot sauce
Method
Preheat oven to 400°F. Line a baking sheet with parchment paper. Combine all ingredients in a large bowl and stir to mix. Form the mixture into 4 patties. Place patties on the baking sheet and bake, turning once half way through cooking, until browned and slightly crisp on the outside, about 30 minutes.
To freeze the burgers, bake and cool them, then wrap in foil or freezer-safe wrap; unwrap the burgers and reheat them in the microwave, or place them on a parchment-lined pan and bake in a 300°F oven until hot, about 25 minutes.
Nutrition
Per serving: 190 calories (10 from fat), 1.5g total fat, 0g saturated fat, 0mg cholesterol, 120mg sodium, 37g total carbohydrate (10g dietary fiber, 6g sugar), 10g protein
Recipe courtesy of Whole Foods Markets