Spas with a plus
Set in a lush, 7,00 square feet adorned with live plants and softly glowing candlelight, Castle Rock at La Cantera—named one of the nation's top 100 spa resorts in Condé Nast Traveler—is home to four massage rooms, two facial rooms, a salon space and more.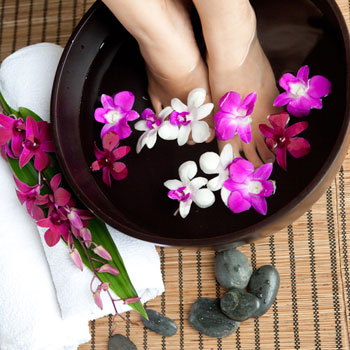 If you're like many of us, the buzz bustle and brisk air of autumn are starting to take a toll on your soul. for those ready to reclaim their bliss, we at Bergen Health & Life found two super spas located in stunning, sultry spots where there's more to enjoy than massages alone: one in a charming South-western city bristling with history, another on a dazzling Caribbean coast.
Set in a lush, 7,00 square feet adorned with live plants and softly glowing candlelight, Castle Rock at La Cantera—named one of the nation's top 100 spa resorts in Condé Nast Traveler—is home to four massage rooms, two facial rooms, a salon space and more. Of course, the moment your eyes close at this luxurious resort (210-558-6500, www.westinlacantera.com), your body won't care where it is. In the "journey to renewal," a 31⁄2-hour sampling of the indulgent pleasures ($270), you'll experience a massage and facial, a manicure or pedicure, and an "eye zone wrap" treatment, which promises to reduce fine lines and puffi ness. In the "hot stone touch-up" ($30 for 20 minutes), heated basalt stones are applied to hands and feet for what La Cantera calls "a quick, yet soothing escape." A 25-minute soothing massage of the scalp, face and décolleté, with your choice of blue oil or fl ower water, is $60. Or opt for a romantic 50-minute
couple's massage right in your room ($105 to $110 per person).
When it's dinnertime, Francesca's at Sunset offers distinguished evening meals with a Southwestern fl avor, prepared in many cases with local ingredients in a "farm-to-table" arrangement with Seguin,Texas–based Uncertain Farms. (Try Francesca's "signature" Caesar salad and the mouthwatering corn crepe-lobster enchilada.) If it's a casual meal you crave, check out Brannon's Café on site, or venture to local favorite Aldaco's Mexican Cuisine (210-222-0561, www.aldacos.net), where you can unwind with the famous avocado margarita, plus top-rate enchiladas, tacos and more.
THE PLUS
The Westin La Cantera is 15 miles from the heart of San Antonio, where the River Walk (www.thesanantonioriverwalk.com) offers a 2-mile stretch of shops, eateries and galleries that hug both banks of the San Antonio River. Explore downtown on foot or take a leisurely boat ride—for romance, try the noted sunset cruise. (Tours are $8.25 for adults, $6 for seniors 60 and over, $2 for children 5 and under; www.riosanantonio.com.)
No trip to San Antonio is complete without a visit to the Alamo (www.thealamo.org). Today the famed mission and battle site isn't out in the open the way it looks in the movies—the bustling city has risen around it. Relive the days when martyrs for Texas independence bought precious time for General Sam Houston's army. Admission is free, and visitors can see historical relics inside the museum and stroll through the site's glorious gardens.
For south-of-the-border pampering, you can't beat the spa at Grand Velas All Suites & Spa Resort (866-634-0047 for the spa, 866-230-7221 for reservations; www.rivieramaya.grandvelas.com), which was named "Most Excellent Spa Hotel" in Mexico and Central America by Condé Nast Johansens. At more than 76,000 square feet, the sanctuary boasts 40 treatment suites decorated with
native artwork. You'll fi nd couples' suites with hydro-massage tubs, a clay room, an ice room and an "experience pool" with water falls, a bubbling water geyser and a pebble walkway for happy feet. One of the spa's private treatment areas boasts a double Jacuzzi, and a beauty salon provides complete hair, nail and body care to put the fi nishing touches on the suitably refreshed you.
Massages, body treatments, wraps and facials are offered here, and treatment options include packages with Indian and Mediterranean flavors. But why not go local with "Journey Through Native Mexico"? It includes a "sacred obsidian stone massage," an "avocado wrap," an "Xocol-Ha wrap and coffee scrub" and four other features.
Hungry for more than self-renewal? Grand Velas features eight eateries in varying styles and shades of elegance, including Frida, named in honor of the famous Mexican painter Frida Kahlo and featuring grilled flank fillet with roasted cactus leaves and Chipotle chili pepper stuffed
with cheese.
THE PLUS
Just 40 miles from Cancun International Airport, Grand Velas is beautifully situated, with a lush jungle on one side and uncrowded silky-white–sand beaches on the other. Explore the area a bit, and you'll end up with some cherished Mexican memories—swimming in natural under- ground pools (called cenotes), strolling among the shops on La Quinta Avenida in the town of Playa del Carmen (just five minutes away) or visiting the theme park Xcaret (www.xcaret.com), which features a coral reef aquarium and a chance to snorkel, scuba-dive or swim with dolphins. A bit to the south, you can visit the Mayan ruins of Tulum or check out Sian Ka'an (www.cesiak.org), a biosphere preserve that offers a model for sustainable development in sensitive tropical ecosystems, with an ecotourism and education center to explain it all.