Spirited Awakening
In the skilled hands of craft distillers, vodka, gin, whiskey and rum become boutique brews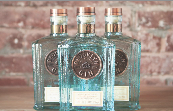 The story of boutique distilleries began in Monmouth County: It was here, in 1780, that Laird's Applejack became America's first commercial distillery. The colonists and early Americans were leery of drinking water, relying on strong drink like Applejack instead to prevent ill health. The liquor's enthusiasts have reportedly ranged from George Washington to Lyndon Johnson, and today Laird & Co. remains a homegrown standard of artisanal—or small-batch—spirits.
There are about 250 craft distillers operating in the country. In terms of volume, their output is still minuscule compared with the likes of Jack Daniel's and Tanqueray. But the craft distillery industry is undergoing explosive growth, according to Michael Kinstlick, who runs Coppersea Distilling in West Park, N.Y. In the American Distilling Institute's Distiller magazine, he writes that the number of identifiable craft distilleries in production rose from 24 in 2000 to 234 in 2011.
The Garden State hasn't been in the forefront of this trend; until Jersey Artisan Distilling, maker of Busted Barrel Rum, was recently granted a license, no new boutique distillery had opened here since Prohibition. But Jerseyans eager to sample something different and homegrown can stop by their local liquor store or tavern to try high-quality, small-quantity bourbons, rums, vodkas and gins. We asked three Monmouth County liquor experts to name their favorite boutique spirits picks:
Arthur Baumann of Farmingdale Liquors says the most popular small-craft liquor in his shop is American Revolution Vodka from Boise, Idaho. "It's very smooth, and the company gives some of its proceeds to help veterans," Baumann says. Its four-column distillation is mixed with carbon and filtered for 10 days to ensure that each bottle contains the purest vodka.
Bob Patdel, manager of Lincroft Wine & Liquors, likes Brooklyn Distilling Company's Handcrafted Small Batch Gin, which sells best in summer. It's made with hand-cracked juniper berries and freshly cut citrus peels, which provide a nice fruity taste. Other boutique spirits include Hudson Whiskey, a small distillery named "Best Artisan Distiller of 2010." The distillers first bought the Tuthilltown Gristmill near Gardiner, N.Y., to open a rock climber's ranch. But the neighbors complained, so they now make whiskey instead.
Another pick is Berkshire Mountain Distillers, which is known for Greylock Gin, Ragged Mountain Rum and Ice Glen Vodka. A vodka worth trying is Long Island Spirits' LiV, made from nearby Long Island potatoes. And many swear by Breckenridge Bourbon Whiskey, made in Breckenridge, Colo., which ranks as one of the top boutique liquors in the country.
Michelle Figel of Shrewsbury Wine and Liquors says that Pappy Van Winkle generates big buzz each year, as only about 7,000 cases per year are bottled in late fall. According to reports, Pappy Van Winkle's recipe substitutes wheat for the rye that most bourbon contains, which helps create a sweeter profile. Prices vary based on age, from $40 for the 10-year-old bottle to $250 for the 23-year-old bourbon. "We get calls about it all the time during the holidays, but it goes really quickly," says Figel.
Take that as a precautionary tale: If you like what you sip, be quick to purchase a bottle. Created only in limited quantities, these brews tend to fly off the shelf. —Deston Nokes