Stavros Christoudias, M.D., F.A.C.S. • Farshad Mansouri, M.D., F.A.C.S. • David Radvinsky, M.D.
Heritage Surgical Group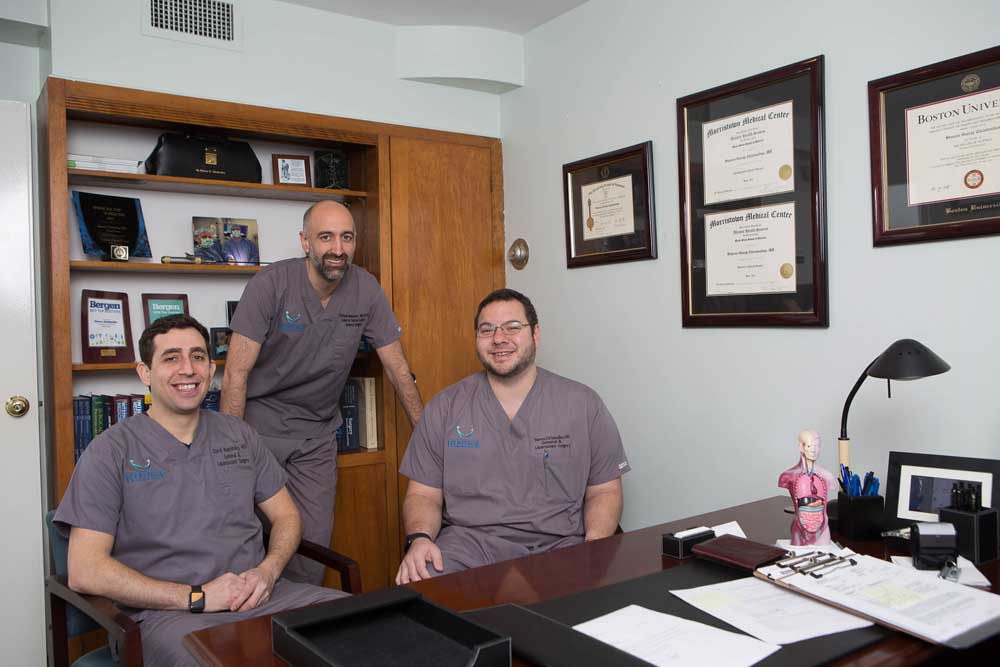 FACING EMERGENCY SURGERY for common problems can make you feel vulnerable, but relying on the skills of board certified general surgeons and Top Doctors such Dr. Stavros Christoudias, Dr. Farshad Mansouri and Dr. David Radvinsky of the Heritage Surgical Group, can be most reassuring. The surgeons of the Heritage Surgical Group, founded in 1978 by Dr. Christoudias' father, treat a broad range of medical issues, from abdominal hernias, to hemorrhoid procedures and laparoscopic gallbladder removal, small bowel resections and lower gastrointestinal endoscopies and much more. As general surgeons, they are able to quickly shift gears to diagnose, treat and manage a vast spectrum of conditions that require routine or emergency surgery.
Dr. Christoudias grew up with an ill family member and remembers how terrifying it could be when doctors rushed through exams. It's one of the reasons that Heritage's surgeons have a solid reputation for being able to reassure and educate anxious patients and their families. "We let our patients know we will take good care of them," says Dr. Christoudias. "We've been on that side of the curtain. When physicians rush a patient, they tend to miss things. We spend a lot of time with patients, and we don't look at the clock." Even so, the Heritage Surgical Group's doctors are known for their extraordinary skill in handling a large volume of surgeries per year.
The group enjoys being an independent practice and feels that it translates to better patient satisfaction and outcomes. In addition, and importantly, the three surgeons are familiar with each other's cases so if a patient needs immediate attention from a doctor, they understand the patient's circumstances.
Dr. Christoudias, Dr. Mansouri and Dr. Radvinsky all graduated from prestigious institutions. They are each affiliated with the best hospitals, such as Hackensack UMC at Pascack Valley, Hackensack University Medical Center, The Valley Hospital, Holy Name Medical Center and Chilton Medical Center. Each member of the practice has brought unique experiences, training and clinical expertise and a long list of credentials to offer patients. Highlights include:
Dr. Stavros Christoudias, a board certified general surgeon, performs surgical procedures treating conditions affecting the abdomen and related structures such as hernias and tumors. He strongly believes in upholding his father's philosophy of honing his surgical craft, focusing on patients and protecting the patient-doctor relationship. His training includes UMDNJ and Boston University. He is medical director of wound care center at Hackensack University Medical Center at Pascack Valley and a board member of the New Jersey Doctor Patient Alliance.
Dr. Farshad Mansouri, a general and colorectal surgeon, is double board certified in general and colon and rectal surgery. His expertise includes minimally invasive colorectal resections, complex rectal surgery and fecal incontinence, in addition to hernias, appendicitis, gallbladder infections, bowel obstructions, and other complex colorectal conditions. He believes in extending himself to his patients at all hours to ease their concerns. He is the current vice chairman, department of surgery, and the chief of the division of general surgery at the Hackensack University Medical Center at Pascack Valley.
Dr. David Radvinsky is fellowship trained in minimally invasive surgery from NYU Lutheran Medical Center. He treats a wide variety of surgical conditions in an elective and emergency setting. As a native of Bergen County, Dr. Radvinsky believes in dedicated, personal patient care. After completing his training in Brooklyn, NY, he left big city life to fulfill his goal of returning home to serve the community where he was raised.
TEANECK: 741 Teaneck Rd., Suite B, Teaneck, NJ 07666
WESTWOOD: 260 Old Hook Rd., Suite 303B, Westwood, NJ 07675
OAKLAND: 9 Post Rd., Bldg. M-7, Oakland, NJ 07436
201.261.6900 • heritagesurgicalgroup.com