Stir It Up!
A wok and a few fresh ingredients are all you need to make quick, healthy and super-tasty meals.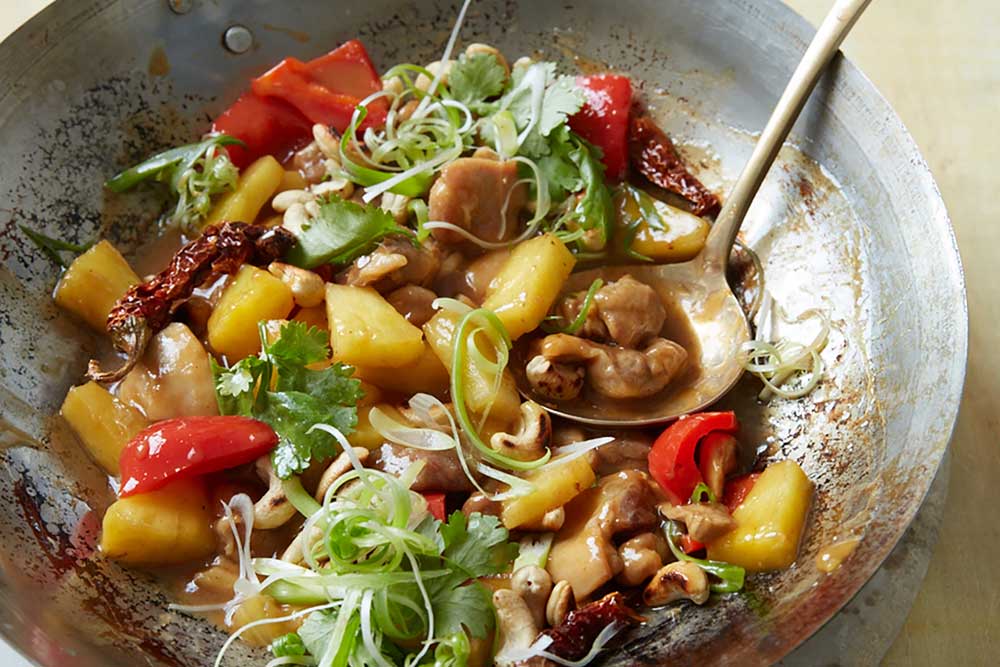 Pineapple Chicken
Ingredients
9 oz. boneless chicken thighs, sliced into ½-in. cubes
Pinch of sea salt
Pinch of ground black pepper
1 Tbs. cornstarch
1 Tbs. canola oil
2 dried chiles, whole
1 Tbs. Shaoxing rice wine or dry sherry
½ small pineapple, sliced into ½-in. cubes
½ red pepper, seeded and sliced into ½-in. cubes
Small handful of roasted cashews (optional)
1 scallion, finely sliced n fresh cilantro leaves, to garnish
For the Sauce
½ cup pineapple juice
1 Tbs. low-sodium light soy sauce
1 Tbs. cornstarch
Juice of 1 lime
1 tsp. honey
¼ tsp. Sriracha chili sauce
Directions
Put the chicken in a bowl and season with the salt and pepper. Add the cornstarch and mix well. Whisk together all the ingredients for the sauce in a small bowl, then set aside.
Heat a wok over high heat and when the wok starts to smoke, add the canola oil. Add the chiles and fry for a few seconds to release their aroma, then add the chicken pieces and stir-fry for 2 to 3 minutes. As the chicken starts to turn opaque, add the Shaoxing rice wine or dry sherry and cook for another 2 to 3 minutes until the chicken is cooked through.
Add the pineapple and red pepper pieces and cook for less than 30 seconds. Then pour in the sauce, bring to a boil and boil until the sauce has reduced, is slightly sticky and has a thicker consistency.
Add the cashew nuts (if using), followed by the scallion and cook for 20 seconds. Stir together well, then transfer to a serving plate, garnish with fresh cilantro and serve immediately.
Tip: When stir-frying, choose an oil with a higher smoke point, like avocado, canola or peanut oil. These oils will not burn or smoke until they reach a very high temperature, which is perfect for wokcooking." —Susan Gralla, registered dietitian at Vernon Nutrition Center, Ramsey
More Recipes
Radish in Black Vinegar with Crabmeat and Black Sesame Seeds »
Chinese Wok Fried Scallion Salsa Verde with Kale and Egg Noodles »