Super Seed
Versatile and nutrient-rich, quinoa has been prized since the days of the ancient Incans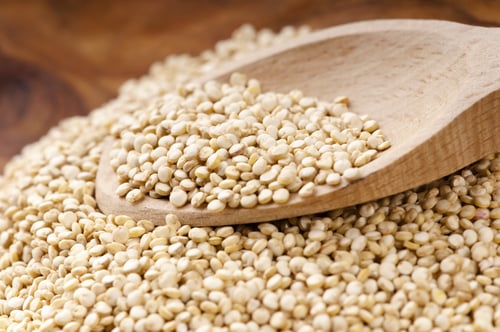 DID YOU KNOW?
Essential to the indigenous cultures of the Andes Mountains in Bolivia, Chile and Peru, quinoa has been consumed for more than 5,000 years. Its name, pronounced "KEEN-wah," is an Incan term that means "mother of all grains"—but it's not really a grain at all. Quinoa is a seed from a nongrass plant that's referred to as a pseudocereal, like buckwheat and amaranth. Designated a "super crop" by the United Nations for its outstanding nutritional profi le and its potential to feed the hungry, quinoa is actually a relative of beets, spinach and chard.
POWER
Prepared like rice, fermented into beer or ground into fl our, quinoa has many uses—and many health benefi ts. While its nutty fl avor makes it a glutenfree favorite, it's also prized by vegetarians because it's a complete protein, containing all nine essential amino acids. Of these, it's especially high in lysine, which is imperative for tissue growth and repair. Quinoa is also richer in calcium, phosphorus, magnesium, potassium, iron, manganese and zinc than wheat, barley or corn. Recent research suggests that some of these nutrients, in addition to quinoa's many antioxidants, may help battle maladies ranging from migraines to diabetes to atherosclerosis.
BUY · STORE · GROW
In South America, quinoa is traditionally harvested in late March, but it is available year-round at food markets either packaged or in the bulk food section. When purchasing, make sure there are no signs of moisture. Stored in an airtight container in the fridge, quinoa will keep for three to six months. Quinoa can be grown in a garden at home, if you have the space—a full-grown plant can be anywhere from 4 to 8 feet tall. It favors cool climates, well-drained soil and full sun. Start seeds in a shallow tray in early spring. Once they've sprouted, transfer to the ground and plant in rows approximately 20 inches apart. Water sparingly and keep soil free of weeds. In about 90 to 120 days, when the fi rst leaves fall and expose dried seed heads, quinoa is ready to harvest. Be sure to wash cultivated seeds thoroughly before cooking as they are coated with a bitter-tasting substance (which actually works as a pest repellent while they are growing).
RECIPE: BEEF AND QUINOA MEATBALLS
Courtesy of Whole Foods Market
Sneak whole grains and veggies into crowdpleasing meatballs with this easy recipe that will stretch your food dollar too. Serve with your favorite pasta and marinara sauce or on a roll with cheese for a dynamite meatball sub sandwich.
INGREDIENTS:
Nonstick cooking spray
1 lb. (95-percent) lean ground beef
¾ cup cooked quinoa
¼ cup finely chopped onions
¼ cup grated carrots
¼ cup grated zucchini
2 Tbs. ketchup
1 Tbs. chopped garlic
1 Tbs. soy sauce
½ tsp. pepper
½ tsp. salt
¼ tsp. dried oregano
¼ tsp. dried thyme
1 egg
PREPARATION:
Preheat oven to 500° F. Line a large baking sheet with foil, then grease with cooking spray; set aside. In a large bowl, mix together beef, quinoa, onions, carrots, zucchini, ketchup, garlic, soy sauce, pepper, salt,
oregano, thyme and egg until well combined. Shape beef mixture into 16 balls and transfer to prepared baking sheet. Roast until cooked through and golden brown, 12 to 15 minutes. Serve hot. (Note: To cook quinoa,
bring 1 cup water to a boil in a small pot. Pour in ½ cup quinoa, cover and simmer until water is absorbed, 10 to 12 minutes. Set aside off the heat for 10 minutes, then fluff with a fork. Makes about 1½ cups.)