Sweet soiree
Planning a holiday party and deciding what to serve can be a headache. This year, why not simplify things by focusing on those two can't-lose crowd-pleasers, chocolate and coffee? When chocolate's feel-good endorphins pair up with the energizing power of coffee, you can practically hear them whispering, "'Tis the season to be jolly!"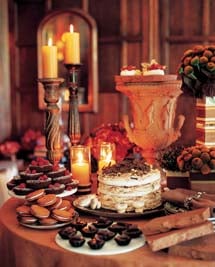 Planning a holiday party and deciding what to serve can be a headache. This year, why not simplify things by focusing on those two can't-lose crowd-pleasers, chocolate and coffee? When chocolate's feel-good endorphins pair up with the energizing power of coffee, you can practically hear them whispering, "'Tis the season to be jolly!"
To make your "C & C" party look as good as it tastes, let a tantalizing assortment of elegant chocolate desserts provide visual delight. Create a rich backdrop for the confections by decorating in the soft hues of chocolate, coffee and cream. For instance, try adorning your dining area with vases of brown orchids or hypericum (also known as "coffee bean"). Or opt for bunches of chocolate cosmos, a fl ower that actually smells like chocolate.
Happily, there are infinite possibilities of creative coffee drinks and blissful chocolate desserts to highlight at your no-fret fête. Turn the page for two libations that unite this power pair.
(LEFT) At left, a table covered in brown suede is the setting for a sumptuous array of cake, cookies, tarts and chocolate slabs.
TIP: "Between dessert plates on the table, place votive candles, pinecones, greenery and even fresh coffee beans in hurricane glass holders. They add texture, and the beans make the room aromatic."
~ LAURA BIANCO, MY BELLISSIMA, MORRISTOWN
© 2010 by Mark Held, Richard David and Peggy Dark, from the book Fabulous Parties by Mark Held, Richard
David and Peggy Dark, published by Ryland Peters & Small. Reprinted with permission.
Skip the usual poinsettias for a nosegay of thorny rudbeckias: their brown and gold tones add an unexpected touch of chocolate-inspired warmth (and whimsy).
Delight guests with an inspired dessert coffee bar. Brew decaf and regular coffee with dark espresso beans and set out a variety of after-dinner drinks—think Nocello, Kahlúa, Bailey's Irish Cream, Amaretto and Godiva Chocolate Liqueur. Then garnish the display with an assortment of accompaniments like coffee candies, flavored sugar cubes, dark and white chocolate chips, cookies and whipped cream. Silver shakers fi lled with cocoa and cinnamon create a perfect finishing touch.
Chocolate Espresso Melts
makes 8-10
1 pint bittersweet chocolate ice cream
2 tablespoons powdered malt
¼ cup milk
2 shots espresso, chilled
1 shot Kahlúa (optional)
8 to 10 espresso cups or edible chocolate cups*
Whipped cream, chocolate shavings and cinnamon sticks, to garnish
Put the ice cream, malt, milk, espresso and Kahlúa in a blender and blend to combine.
Pour into cups and garnish with whipped cream, chocolate shavings and a cinnamon stick as a stirrer.
White Russian
makes 1 drink
1 fl oz. Kahlúa
1 fl oz. vodka
1 shot freshly made espresso
½ cup lightly whipped cream
Chocolate shavings, to garnish
Pour the Kahlúa, vodka and espresso in a serving glass and top with whipped cream.
Garnish with chocolate shavings.
Serve immediately