Tea-Licious
The latest libation fad? Cocktails that are infused with tea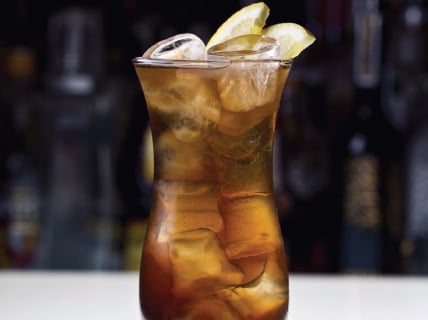 Step aside, espresso martini. Today's hottest cocktails aren't concocted with coffee—they're infused with tea. And why not? After water, tea is the most commonly consumed beverage in the world, reports the Tea Association of the U.S.A. Many love its antioxidant properties, or the fact that tea's natural flavonoids are thought to lower the risk of certain cancers and combat cardiovascular disease. Americans alone gulped more than 65 billion servings of the brew last year, a number sure to skyrocket now that mixologists know it blends with so much more than breakfast scones. "From citrus notes to floral aromas, tea's many subtle flavors marry beautifully with a wide variety of spirits," says Andrew McIntosh, bartender at Park West Tavern in Ridgewood.
Indeed, as tea takes its rightful place beside orange juice, club soda and other beloved mixers, "tipsy" teas can be sampled at several local haunts: The Big Country Ic ed Tea at Ri ver Palm Terrace, Edgewate r Still reveling in the sparkle of the New Year? A Prosecco floater imparts merry fizz to this black-tea cocktail. "It's refreshing, as opposed to super-sweet," explains bartender Angela Russo. "And because tea is made with water, it doesn't dehydrate you as much as other alcoholic mixed drinks."
Ingredients
3 oz. black tea
2 oz. citrus-flavored vodka
¾ oz. triple sec
¼ oz. fresh lemon juice
¼ oz. Prosecco
1 lemon, cut into wheels
Brew tea and chill until it's cold. Combine vodka, triple sec, lemon juice and tea in a shaker over ice. Shake vigorously. Strain into a mason jar or eight-ounce glass. Finish with Prosecco, and garnish with a lemon wheel.
The Shanghai Tea at Chakra, Paramus
Before jasmine tea even makes an appearance in this drink, sweet vermouth is first boiled with cardamom, cinnamon and cloves. Then the vermouth is combined with cognac, Pama pomegranate liqueur and fresh lime juice—along with the tea—and the mixture is shaken with ice and served in a hurricane glass.
The Spring Fling at Park West Tavern, Ridgewood
Green tea–infused simple syrup meets Hendrick's Gin, resulting in a happy citrus union heightened by lavender bitters. The perfect way to sip this refreshing vernal offering? In a glass over one large cube of ice.
The Arnold Palmer at Bonefish Grill , Paramus
Made famous by the eponymous golf guru, this reinterpretation of the classic iced tea and lemonade mixes Earl Grey, Stoli vodka, club soda and bitters. Legend has it that the potent potion may actually improve your swing, which may be why it's often enjoyed (pardon us) at tee time. (Bonus tip: If you're feeling inspired, grab a virgin Arnold Palmer bottle, available year-round at Iron Horse in Westwood, and stir it with the spirits of your choice.)
The Chimonas at Axia Taverna, Tenafly
Bearing the Greek word for winter as its name, this drink is served hot, like a toddy. Its combo of fragrant cinnamon-scented Tentura liqueur, B&B (a blend of Bénédictine liqueur and French brandy) and soothing honey makes it the perfect antidote to a cold day.
Related Read: Sensational Summer Sips