Tempting Tequila
Forget that traumatic long-ago spring-break experience and give this versatile Mexican liquor another try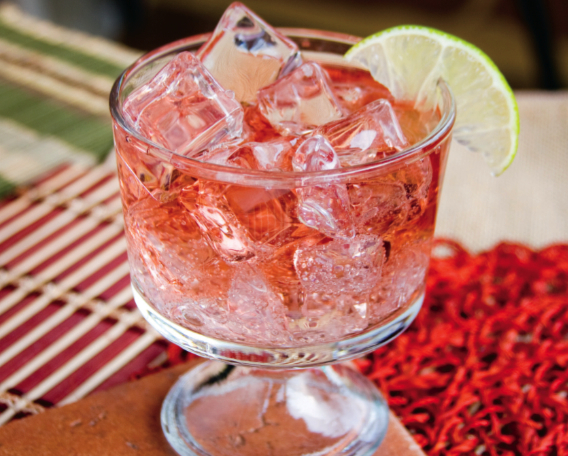 If you've ever had a margarita, you're familiar with tequila, the distilled alcoholic beverage made from the blue agave plant, which is native to the area surrounding the city of Tequila in Mexico's state of Jalisco. But many of us associate the liquor with a harsh taste and a crazy party—it was a liquor we turned to when we were younger and just wanted to "get wasted."
In her new book ¡Hola Tequila! (Sellers Publishing), Colleen Graham, a bartending expert for about.com, argues that times have changed for tequila, that it has evolved into a product associated with civility: "Today we're infusing tequilas; we use tequila with herbs and fresh, exotic fruits and highend liqueurs, and whatever else imaginative mixologists can concoct. We are no longer disguising our tequila's unique piquancy; we are celebrating it, finding brand-new complements and proudly displaying our favorite bottles." ¡Hola Tequila! gives readers 90 tequila cocktail and shooter recipes as well as a detailed history of the spirit and a lesson in the different categories and types of tequila.
Here, two of our favorite recipes:
El Diablo (pictured above)
El Diablo, as the name suggests, is a devilish little drink, but it has a fascinating taste and can easily become a favorite of any tequila lover.
Ingredients:
11/2 fl. oz. reposado tequila
1/2 fl. oz. creme de cassis
1/2 fl. oz. fresh-squeezed lime juice
Ginger beer
Directions:
In a cocktail shaker, combine tequila, cassis and lime. Shake well and strain into a chilled, ice-filled old-fashioned glass. Top with ginger beer. Garnish: lime wedge
Jalapeño Margarita
Tequila and hot peppers go together like peanut butter and jelly—no other liquor can handle spicy as well as tequila does.
Ingredients
4 slices jalapeño pepper, seeded
¼ fl. oz. agave nectar
1½ fl. oz. reposado tequila
¾ fl. oz. Grand Marnier
¾ fl. oz. fresh-squeezed lime juice
2 dashes orange bitters
DIRECTIONS
Muddle the pepper and nectar in the bottom of a cocktail shaker. Add the other ingredients and ice and shake vigorously. Strain the mix once into a spare glass and a second time into a well-chilled cocktail glass. Garnish: whole jalapeño or a slice
RELATED READ: Summer Cocktails, On the Lighter Side