The Din We're In
Noise has become Bergenites' almost constant companion, affecting our quality of life and the state of our health. Do we have to live with it?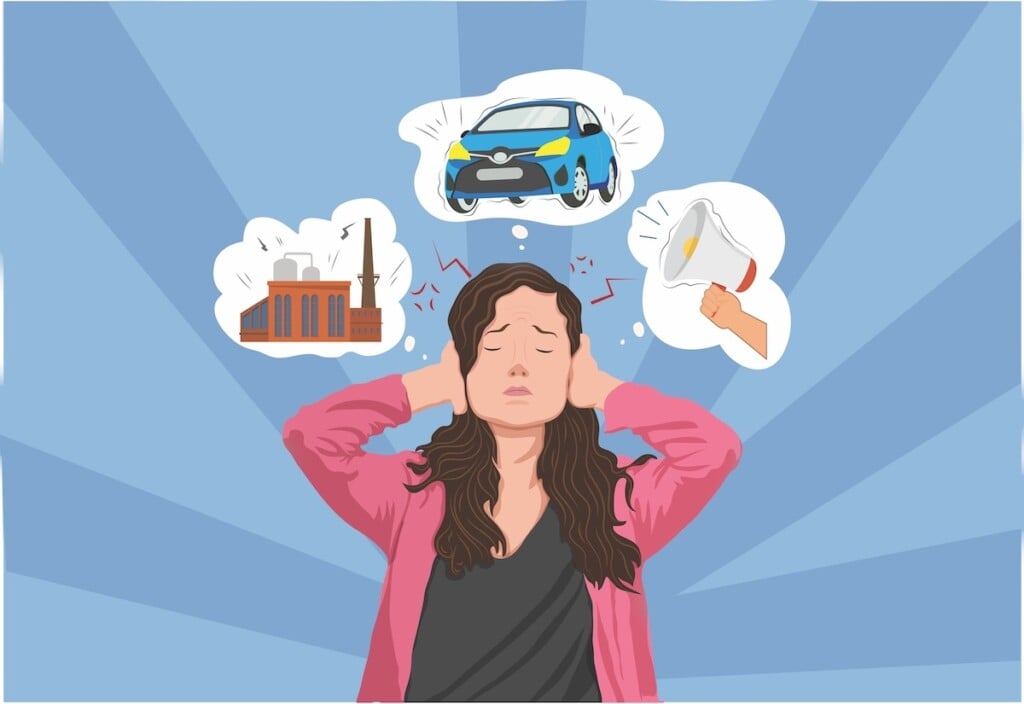 For the past few years, living in Woodcliff Lake has felt a lot like residing full time at the airport. "It's like the planes are landing on the runway—and the runway is my house," says Carlos Rendo, a resident of the borough and its mayor, who estimates that, during the day, those planes come roaring over his house every two to three minutes. Most of them are headed for Teterboro Airport, the 827-acre facility owned by the Port Authority of New York and New Jersey, and they've become an increasing source of noise pollution for the Bergen County towns that surround the airport or sit beneath its flight paths.
With its abundant green spaces and a wealth of mature shade trees, Bergen is one of New Jersey's most idyllic suburban spaces—if you're wearing noise-canceling headphones. Blame it on population density or proximity to New York City, but whatever the cause, in 2017 the federal Bureau of Transportation Statistics named Bergen one of the seven noisiest spots in New Jersey. (The bureau based its conclusions on the amount and type of transportation and aviation that occurs in specific areas and the typical noise that arises from those two sources. ) And New Jersey is one of the loudest areas on the East Coast, so it's easy to understand why many Bergen residents consider noise pollution a serious detriment to their quality of life—a detriment that became even more apparent during the pandemic, when so many of us were working from home.
NOISE HURTS
Excessively loud noise is more than a nuisance; it can actually make you sick. Chinwe Idigo, M.D., a psychiatrist practicing in Teaneck, explains that, from an evolutionary perspective, our bodies are designed to be hyper-alert to noise, which can often signal danger (a tiger in the underbrush, for instance, or a herd of marauding wildebeests). "It's a survival function," she says, "and when there's constant noise, that process is always happening. We're never truly able to be at peace when we're surrounded by excessive noise." That's because noise pollution increases the production of the stress hormone cortisol, which plays a significant role in regulating sleep, blood pressure and energy levels. When cortisol levels are too high, they can lead to problems such as anxiety, depression, weight gain and sleep disturbances. They can also be a harbinger for serious physical problems, including stroke and heart attack. In fact, researchers at Massachusetts General Hospital recently found that people who were exposed to constant transportation noise were more likely to suffer arterial inflammation and, within five years, major cardiac events.
The source of the noise is less important than its loudness and duration, though scientists have found that sudden bursts of noise—an aircraft passing overhead, the intermittent pounding of construction machinery, repeated blasts from a leaf blower—can be even more detrimental to health than steady noise if they occur throughout the day. That on-and-off quality is typical of three of the most common sources of noise pollution in Bergen County: construction, leaf blowers and air traffic.
CONSTRUCTION NOISE
Anshuman Jain and his wife, Bharti, are painfully aware of the negative effects of noise pollution. The Glen Rock residents live less than 25 feet from the old Nabisco factory in Fair Lawn, which has been under demolition since January, and the construction (or, in this case, destruction) noise that begins at 7 a.m. and continues until 5:30 or 6 in the evening has seriously disrupted their day-to-day lives. "Every few seconds there is banging," Jain says, "sometimes so bad that the whole house shakes. A couple of days back, my daughter's toys fell from the shelf." Jain says he complained to the authorities in Glen Rock, who directed him to the authorities in Fair Lawn, who told him that no work was being done near their house. ("Clearly indicating that the Fair Lawn Building Department is far from reality," Jain says.) He's reached out to both the developer and the contractor, to no avail. The couple work at home, so there's no escape from the constant racket, which often wakes them in the morning—a grim reminder of what the rest of the day holds for them. They haven't opened their windows in the past six months and can only use their backyard on Sundays, when the demolition pauses. The stress, Jain says, is making them sick.
Unlike airport noise, construction noise is, in theory, finite in duration. But that's meager comfort when projects can go on for months and even years. As of this writing, the Nabisco demolition was slated to wrap up by the end of the summer, but after that, construction of a sprawling new warehouse is expected to be under way for close to two years.
In densely populated Bergen County, the likelihood that you're going to be exposed, at some point, to construction noise is fairly high. If that happens, you can begin by determining what your local noise ordinance permits in terms of decibels, the standard measure of loudness. Mobile and computer apps will give you an approximation of decibel levels, or you can invest in a professional decibel meter for a more accurate reading. (Those decibels should be measured from your home, not from the source of the noise.) Most local ordinances prohibit noise above 50 decibels from 10 p.m. to 7 a.m. and above 65 during the day. (The noise from a jackhammer, for comparison, is 128 decibels; a leaf blower is 110 decibels.) If you find that you're consistently being exposed to noise above permitted levels, start by contacting local authorities. If that doesn't yield satisfactory results, you can contact the Bergen County Department of Health Services, which provides support for local enforcement of noise ordinances.
LEAF BLOWERS
Like a swarm of angry hornets, the leaf blowers descend on Bergen every spring and don't recede until autumn fades into winter. Making things worse is the fact that most landscapers use gas-powered blowers, which aren't just noisier than electric models but also more polluting. Three years ago, those facts spurred Westfield resident Lois Kraus to cofound Advocates for Transforming Landscaping in New Jersey (ATL-NJ), an advocacy organization working to phase out gas-powered blowers in the state. "It's a quality-of-life problem, a public health problem, an environmental problem and a social justice problem," she says, the last referring to the low-wage workers who man the equipment and often aren't sufficiently protected against it. Over the past several years, three New Jersey lawmakers have introduced bills designed to require the state's landscapers to switch to electric blowers, but none of the bills have made it out of committee. On the other hand, a few individual Jersey towns have banned leaf blowers either seasonally (Montclair, South Orange) or year-round (Maplewood, Princeton), and Kraus says that 10 towns in Bergen, including Glen Rock, "are exploring how to reduce noise pollution and the health, environmental and quality-of-life issues attributed to gas leaf blowers."
If the blare of blowers in your neighborhood has become intolerable, Julie Kolehouse, a cofounder of ATL-NJ, advises advocating for change. As a start, she says, "reach out to the New Jersey Department of Environmental Protection's Environmentally Preferable Products Division." Your message? "Demand," suggests Kolehouse, "that they begin to offer battery/electric procurement specifications that landscape associations, municipalities, school districts and other entities can access to find guidance on the most cost-effective, quality battery/electric equipment platforms." Until that happens, convincing landscapers and other entities to switch to electric could be well-nigh impossible. You can also express your concern about leaf-blower noise to New Jersey's Noise Control Council. Try asking your landscaping service folk if they'd be willing to switch to electric or, if it's feasible, hire an all-electric landscaping service such Outdoor Digs or D&R Landscaping. And, to make your views heard over the din, you can join ATL-NJ and/or Quiet Communities, a national anti-noise advocacy organization.
AIRCRAFT NOISE
Audrey Herget has lived in the same house in Park Ridge for more than 25 years, and, she says, "I've never experienced air traffic like I've seen over the past year or two." Other Bergen residents living in the 20-plus towns near the airport or along its flight paths have similar complaints. It could be, of course, that the increase in remote work has made people more aware of the traffic overhead. But it's also true that the use of private jets has soared, thanks, in part, to the pandemic. In any case, Herget found the situation sufficiently intolerable that she and other Pascack Valley residents formed Taxpayers for Aircraft Noise Solutions (TANS), whose mission is to work with the Federal Aviation Administration (FAA) and elected officials to find "reasonable solutions" to the growing problem. (A similar group, Teterboro Aircraft Noise Abatement Advisory Committee, or TANAAC, comprises the 15 towns within a 5-mile radius of Teterboro and operates under the aegis of the Port Authority.)
One of TANS's first efforts has been to ask the FAA why a new approach to the airport, proposed by Hackensack officials a decade ago and approved by the FAA in 2021, is rarely being used. At the moment, Herget says, most flights to Teterboro fly up to the Pascack Valley, circle around to descend over the valley's communities, and then land at Teterboro; the alternate path would take them over Route 17, a less populated area. Pilots have the option of taking the new path, but few have embraced it.
Bergenites aren't alone in their frustration at aircraft noise. In 2021, the FAA released results from its first noise survey in three decades, which revealed that more people nationwide are bothered by aircraft noise than ever before. That's likely because, cutbacks in travel during the pandemic notwithstanding, air traffic increased consistently from 2010 to 2019 and has been recovering strongly since 2021. Unfortunately, there's little residents can do about the overall number of flights, and planes—along with fire signals, trains, road noise and church bells during services—are exempt from local noise ordinances. The best option for effecting meaningful change is to join with others lobbying for a change in regulations via organizations like TANS.
The one thing you can't do about excessive noise is learn to live with it. Research has shown that people exposed to a perpetual din don't habituate to noise; instead, their bodies become primed to react even more negatively to each succeeding onslaught of sound. Which means that taking action to reduce the constant cacophony of 21st-century life isn't just a good idea; it's a way to achieve better health and a better quality of life. Maybe even a longer life.