The Grapes of Greece
Wine's ancient homeland offers enticing pours once more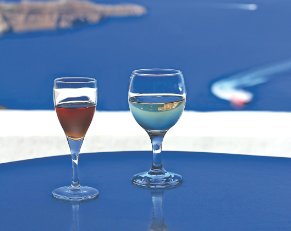 Long before the creation of French Bordeaux or Napa Sauvignon, Greece was deeply devoted to the worship of Dionysus, the god of wine. "Wine has been an integral part of Hellenic culture for more than 4,000 years," says oenologist Sofia Perpera, director of the Greek Wine Bureau's North American operations and founder of the consulting company all about Greek Wine. "Greece was the first to develop an appellation system to define grape-growing regions, and records show severe penalties for breaking those rules." Elegant decanting vessels discovered by archaeologists further attest to the level of wine sophistication this society enjoyed. In fact, it was the Greeks who introduced viticulture to southern France, Italy and Spain.
Despite this venerable vino history, Greece is a relative newcomer to prominence in the modern commercial wine world. "Most wineries are family-owned and three to four generations old," explains Perpera. But change abounds. The country's 1981 European Union entry marked an industry milestone, as EU subsidies gave growers access to contemporary vinification technology.
Today's Greek vineyards support more than 300 indigenous grape varieties, some of which have been cultivated since antiquity. There are seven major winemaking regions—northern Greece (including Thrace, Macedonia and Epi- rus), central Greece, Attica (which includes Athens), the Peloponnese, Crete and the Aegean and Ionian islands—yet they all have something in common. "in Greece, wine is meant as a complement to food," says Perpera. "Less manipulation and lower alcohol levels create elegant varietals that pair well with
 most cuisines."
Eager to start sampling? Here are some of the most popular grapes:
Reds:
Agiorgitiko: This one is grown in the gorgeous Nemea region of the Peloponnese, and its name means "grape of saint George." It's one of two common heat-resistant varieties, producing luscious, velvety reds.
XinomAvro: The other temperature-resilient planting, this "acid black" grape is cultivated mainly in Macedonia. Rich tannic qualities ensure ideal aging, while aromas of gooseberry, olives and sun-dried tomatoes encourage quick consumption.
Kotsifali: The benchmark red of Crete, it's often blended with other varietals to intensify aromas of flowers and black fruit.
Limnio: This northern Greek berry is moderate in color and acidity and light to drink.
Whites:
Assyrtiko: Santorini's volcanic island soil yields a crop that's high in sugar and acidity, making for dry, full-bodied bottles
with citrus notes and subtle mineral tang.
Malagousia: Nearly extinct in the '70s, the plantings now flourish in central Greece. On the palate this wine exhibits peach, basil and green bell pepper flavors.
Moschofilero: Crisply spicy whites made from this Peloponnesian fruit perfectly complement seafood dishes.
Savatiano: The most widely planted grape in Greece. Drought-resistant, it's found mainly near Athens, producing balanced blends that match with Mediterranean dishes. —Francesca Moisin