The Green Housewives of Bergen County
On the plate and on the planet, these women exemplify the benefits of embracing— and protecting—nature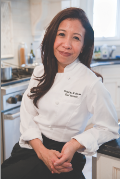 HARRIET SHUGARMAN
Recognizing Climate Change
This Wyckoff resident's résumé could hardly be more verdant—or more distinguished. A former policy analyst and economist for the Canadian government and the International Monetary Fund, Harriet Shugarman has worked on major United Nations conferences including the first Earth Summit in 1992. She was one of the first 1,000 people worldwide to be trained by former Vice President Al Gore as a climate leader in conjunction with the Climate Reality Project. Shugarman has also been a writer and blogger for Lifetime TV, The Christian Science Monitor and other media, and she chairs her town's environmental commission and its "Green Team."
Yet it's her role as mother to son Elliot, 15, and daughter Alana, 13, that fuels Shugarman's true mission: "to empower parents and help them understand climate change," because, she says, "it's here. It's not just our children's future, it's our future."
In 2009 Shugarman set up the website Climate Mama (climatemama.com), and over the years she has come to be called affectionately by the same name. She educates the public on climate-change issues through workshops and lectures, and directly through the site.
Sometimes she even gets in the center of the storm. "I've become more of an activist in the past couple of years," she says, admitting to having been one of 1,253 people arrested in 2011's Key- stone Pipeline protest in Washington—an experience she describes as "powerful."
"Climate change is a very political issue, and it shouldn't be," says Shugarman. "In other countries it's just accepted as fact. Even here in Bergen County, we need to immediately accept the reality of climate change and adapt. When we build, for example, we have to build smart."
Climate-Conscious Tips From Shugarman:
– "Talk to town administrators about storm water runoff and flooding. What can you do to be prepare for extreme weather and protect your home and com- munity? Discuss creating permeable sur- faces such as rain gardens and green roofs. Consider getting a rain barrel too!"
-"Find out what plants and trees we should be planting as climate zones change. Follow a 'cut it and leave it' practice with your lawn and learn what you can do to keep trees healthy and properly trimmed as extreme weather becomes a common factor."
-"Create a family climate change plan: How will your family tackle climate change head-on? And have a family preparedness plan for extreme weather disasters."
-"Reduce your family's carbon footprint. Conserve energy: Turn off lights when you're not using them. Buy energy- efficient appliances and cars. Lower the heat a few degrees in the winter and raise the AC a few degrees in the summer."
-"Be water-wise. Use water prudently for irrigation and in the home."
-"Try to go paperless, or use as little paper as possible."
-"Take your own bags not only to the grocery store, but also everywhere you shop. Set an example for your kids, family and neighbors."
-"Don't just recycle—pre-cycle. In other words, be a sustainable purchaser by buying eco-friendly products and those with less packaging." (See climatemama.com for product and service recommendations.)
-"Explore local parks, gardens, beaches and the great outdoors. Remind yourself about our connection to nature and why we need to protect it and nurture it."
CHRISTINE M. OKEZIE
A FOODIE'S FERVOR
"One meal, one family at a time." That's how nutrition coach Christine M. Okezie, 43, mother of a 9-year-old boy and a 6-year-old girl, describes her strategy for greening her clients' diets and, with them, the environment.
"Personal health demands a habitable environment," says Okezie, founder of Your Delicious Balance Nutrition & Wellness Coaching in Glen Rock. "No one is healthy on a sick planet."
She wasn't always this passionate about leafy greens. Okezie worked happily in investment banking for 10 years, until the burst of the Internet bubble in 2001 gave her the opportunity to leave and start a family. She helped her husband launch his own orthopedic surgery practice, all the while enjoying her innate love of all things culinary. "I'm a foodie," she says. "I always wanted to go to cooking school. I was usually the one hosting, the one people came to for advice on food." But it was a health scare from a routine mammogram (all turned out OK) that prompted her to see food as inseparable from health. "That was the catalyst for me," she says. "I do what I do now because I am passionate about food and healing."
Today Okezie educates scores of people, through her nutrition coaching practice and through community events, on how to reconnect to their food, make sense of conflicting information and reclaim their health with a natural-foods lifestyle. She has helped clients deal with a host of issues such as weight loss, irritable bowel syndrome, hypoglycemia, chronic fatigue and fibromyalgia. She holds certifications from the Natural Gourmet Institute for Health & Culinary Arts and the Institute for Integrative Nutrition. She is also board- certified by the American Association of Drugless Practitioners, a holistic health group. She offers private nutrition counseling and health-supportive cooking lessons, sometimes in clients' own homes.
"I teach that diet is not about deprivation," says Okezie. "It's about all the variety of wonderful things you can eat. When you nourish on a personal level, you nourish the planet. It's all connected. For example, eating organic foods supports the use of natural topsoil and discourages the use of pesticides."
FOOD FOR THOUGHT FROM OKEZIE:
-"Eat real food! It connects us to nature. Food is sacred. It's fundamental."
-"This country's agricultural practices are not sustainable, so I tell clients to eat lower on the food chain. That means eating more fruits and vegetables and less meat."
-"Model healthy eating habits for your children. In my family, we call it 'making balance.' If my children eat a cupcake at a party, they know they'll get extra-healthy food later. And they can read packages."
-"For children, keep it simple: What's food and what's not food? I tell my kids that it's my job to keep them safe and healthy, but how can I do that if I buy them food full of chemicals and junk? Get your kids involved in the kitchen. Let them use the salad spinner, for instance."
-"Choose organic food whenever possible. If you're on a budget, then buy strategically—choose organic for the 'dirty dozen' (apples, blueberries, celery, green beans, grapes, lettuce, nectarines, peaches, peppers, potatoes, spinach, strawberries). We have the ability every day to 'vote' with our purchases. It's no accident that Wal-Mart is carrying organic produce now. Demand is growing."