The Not-So-Tough Sex
For all their bravado, men wimp out on going to the doctor. Here are the dangers they face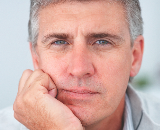 By Francesca Di Meglio
Gender equality is on the march these days, but one sex still lags behind in a key area: Males do not excel at taking care of themselves.
"Women tend to be more proactive about their health and screenings, while men stick their heads in the sand, only to emerge once symptoms drive them to the doctor's office," says Eric Margolis, M.D., of the Urology Center of Englewood. "I encourage women to open a dialogue with the men in their lives about screening and help them make educated and informed decisions about their health."
As a wake-up call to men—and to women who care about their husbands, fathers, brothers and sons—top Bergen County doctors recently shared their biggest concerns about men's health:
Heart Disease
Consumed with today's busy lifestyle, many men make a healthy diet and exercise low priorities, says William D. Salerno, M.D., director of the Heartcare Center in Saddle Brook. And some respond to stress with smoking and excessive alcohol consumption. Such behavior can contribute to high blood pressure and clogged arteries, which can lead to a heart attack. "Heart disease is the number-one killer in the world and is projected to remain in that spot for at least the next 10 years," says Dr. Salerno.
Risk Factors: Smoking of any kind, high blood pressure, diabetes, obesity, high cholesterol or a family history of heart disease puts you at higher- than-average risk for a heart attack. Be particularly alert to a family history in which the member was a nonsmoker, or one where heart injury occurred before the age of 45 in a man or 55 in a woman.
Symptoms: Sharp pains in the chest or down the left arm, shortness of breath and excessive sweating—these are some of the signs we commonly associate with heart attack. But Dr. Salerno warns that they're not always present; heart-attack sufferers may instead—or in addition—experience excessive fatigue, nausea or unexplained vomiting.
Screening: Experts differ about the optimal frequency of screening procedures for men without high risk, but the best course is to see your doctor regularly and follow his or her recommendations. They may include annual blood-pressure and blood cholesterol checks and complete physical exams every couple of years—or every year if you're 40 or older. Ask your physician if a cardiac calcium scoring test—one that measures the buildup of calcium-containing plaque on artery walls—is right for you. And if you find you're starting to feel more exhausted than usual, it's time for an office visit.
Prevention: "Lose the salt shaker and pick a diet endorsed by the American Heart Association," suggests Dr. Salerno. Try to keep your cholesterol within the normal range—with a medication if your physician decides you need one. Watch your controllable risk factors and try to avoid "a gut larger than the butt," says the doctor, "which is actually a risk in itself."

Colon Cancer
This disease is the third most common cause of cancer death in men. "But if it's caught early, it's curable," says Lawrence E. Harrison, M.D., director of surgical oncology at the Daniel and Gloria Blumenthal Cancer Center at Valley Hospital in Ridgewood.
Risk Factors: Family history and a history of polyps (small growths that protrude from a mucous membrane) revealed on screenings are signs you should be extra vigilant.
Symptoms: Contact a physician if you notice a prolonged change in bowel habits, blood in your stool, difficulty moving bowels or thin stool.
Screening: Dr. Harrison recommends that men have a colonoscopy at age 50 and every three to five years thereafter. Again, recommendations from experts differ, and there are varied screening options. The American Cancer Society suggests several alternatives: (1) annual fecal occult blood testing (FOBT), which traces blood in the feces that can't be seen with the naked eye, (2) a flexible sigmoidoscopy every five years, (3) a double-contrast barium enema every five years, (4) a "virtual" colonoscopy every five years, or (5) a colonoscopy every 10 years. (Virtual colonoscopy, also known as CAT scan colonoscopy, is preferred by some because it's less invasive than the traditional procedure, but Dr. Harrison warns that there are no data to prove that these new tests are as good as a traditional colonoscopy at uncovering problems.)
Prostate cancer
Prostate Cancer
Men have a one in eight chance of developing prostate cancer, says Michael Esposito, M.D., of the New Jersey Center for Prostate Cancer and Urology in Maywood. If left untreated, the disease can shorten your life, but cases vary widely, and some prostate cancers are very slow-growing.
Risk Factors: Incidence increases with age, but with a family history of the cancer, men in their 30s and 40s can be at risk. African-Americans tend to get the disease more often than others do. A diet high in fat may also contribute, says Dr. Esposito.
Symptoms: Chronic infection of the prostate, high blood pressure and an enlarged prostate. Generally, the disease is asymptomatic until it's advanced, at which point you'll find blood in the urine or a blockage of the kidneys, says the doctor.

Screening: With a family history of the disease or membership in one of the risk groups, you should go in for your first digital rectal exam (DRE) and prostate-specific antigen (PSA) blood test between ages 35 and 40. Those who are not at high risk can begin getting tested during their annual physical between ages 45 and 50. "Early detection leads to the best outcomes," says Dr. Esposito.
Testicular Problems
There is some controversy about the PSA screening test. In May 2012, the U.S. Preventive Services Task Force (USPSTF) recommended against routine PSA screening because it can identify cancers that are so slow-growing that they may never be harmful. The American Cancer Society website explains that early results from a U.S. study have "found that annual screening with PSA and DRE detected more prostate cancers than in men not screened, but it did not lower the death rate from prostate cancer."
Let's give the final word to a Bergen doctor: Daniel R. Simon, M.D., of the Urology Center of Englewood, says that he and his partners, "along with the American Urological Association and many others, feel [the USPSTF] recommendation does men a great disservice because not screening guarantees missing many dangerous cancers." He adds: "It is true that the PSA test is not a perfect test, but it remains the only widely available test to help identify men with prostate cancer before symptoms develop."
Testicular Problems
Cancer
The American Cancer Society predicts that almost 8,000 men will be diagnosed with testicular cancer in 2013. When it comes to testicular health, says Saurabh Agarwal, M.D., medical director of robotic urology at Valley Hospital, cancer is the gravest threat.
Risk Factors: Men who have a history of testicular surgery are at the highest risk. (For example, some have operations to correct undescended testicles at birth.) For unknown reasons, a man's risk peaks twice, from ages 20 to 39 and again from ages 60 to 70, says Dr. Agarwal.
Screening: Dr. Agarwal encourages men to screen themselves once a month, beginning as early as puberty. They should observe and feel for bumps and hard areas on the testicles, which can be the sign of infection or cancer, and should see a doctor if they find anything out of the ordinary. The doctor will determine if the finding is benign— for instance, a cyst that might require draining but causes no real threat—or something more suspicious, in which case, the next step is an ultrasound exam, says Dr. Agarwal. Should the finding be a tumor, surgery is required. Nowadays, doctors are offering testis-sparing surgery, which keeps the testicles intact as much as possible.
Low testosterone
Finally, those commercials on the evening news don't have it entirely wrong. "If you're suffering from low libido, increased fatigue and muscle loss, you may have decreased testosterone, which can be treatable," says Dr. Agarwal. Testosterone-replacement gels and injections are possible treatments for appropriate candidates. Also, if you and your partner are having trouble conceiving a child, you should both be examined, because many barriers to starting a pregnancy can be overcome with treatment.