The wizard of us
The Wizard of Us; Lisa Oz, wife of TV's famous doctor, steps out of the shadows with a new book on relationships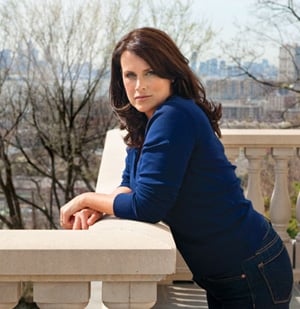 Who better than Cliffside Park resident Lisa Oz to "write the book" on relationships?
Married for 25 years to heart surgeon and best-selling author Mehmet Oz, M.D., longtime Oprah regular and host of the nationally syndicated The Dr. Oz Show, she's given him behind-the-scenes aid, helping to conceive his first TV program and offering guidance for the popular You series of books he co-wrote with Michael Roizen, M.D.
Now it's her turn to help as she wins renown as the author of Us: Transforming Ourselves and the Relationships that Matter Most (Free Press).
"Mehmet helped me figure out sound bites- what I can say and should say on TV," Oz says. "Left to your own devices, I would just go on and on!" It's a role switch many women can understand. For years Lisa has stood quietly in her husband's shadow, raising their children (Daphne, Zoe, Arabella and Oliver) and serving as president of the family business, Oz Works. "Rather than put myself on the line, I found myself more and more supporting him in his work," she says. "After awhile, I wasn't really fulfilled by that."
But the path to fulfillment, she found, lay through struggle. "I'm a procrastinator, a last-minute-doer-or I don't hand things in at all," Oz admits. "Now I've learned that I can complete something, which was a huge revelation."
Writing a book on relationships, of course, means putting her own under some scrutiny, and she hasn't pulled any punches: Things haven't always been magical in the land of Oz. As her husband's career got hot, she notes, so too did the marital spats, as Lisa often berated Mehmet for not spending enough time at home.
"Finally, I realized that wasn't what I was actually mad about," she says. "I really needed to be more independent-I needed my own creative outlet."
The new author in the family is equally candid about the personal struggles she's faced-with weight, for example, especially after her pregnancies.
"Given my passion for food, the odds are pretty good that I will never be X-ray thin. And when I'm feeling fat, I'm more likely to be mean, snappish and insecure."
To counter this, she tries to eat well-she's been vegetarian since her teens-and exercise regularly. "Of course, every time I travel, the kids stock up on potato chips!" says Oz.
Still, she notes that two of her kids are "strict" vegetarians, while Daphne, the oldest, follows a mostly meat-less diet. "But my son-he'll get angry if he sees animals being hurt and then he'll go out and eat ribs! I don't get it. But he's only 10, so I don't want him to agree to something before he can fully understand what he's committing to."
As for downtime, Oz admits there's not much if it. "Mehmet always needs to be doing an activity, but he doesn't like to go to movies, restaurants or hang out with friends, so there's no social life!" she says. "So we do yoga together, play tennis, ski. And we do stuff with the kids: We go to the museum or the farmer's market in Union Square. We'll also work together, brainstorming shows or future book ideas."
Much of this occurs in the stucco, terra cotta-roofed Cliffside Park home the couple built seven years ago. The location has even inspired a possible new hobby: "I'm thinking of taking flying lessons-Teterboro is so close! I'm terrified of it. But it's good for me to stretch."
Indeed, it's been a year of stretching for Lisa Oz. "This book was like pulling teeth," she admits. "But rising to the challenge, learning to just get out of my own way and get it done-it was good all the way around."
Lisa Oz: A few of her favorite things…
Her Five Siblings: "We're so close you can't play Pictionary with us, because I'll draw a line and they'll be like, 'taxi cab!'"
Her Spirituality: "I was raised Swedenborgian, and religion was always a big part of my life."
Su Healthy Cuisine In Edgewater: "It's a vegan restaurant and it's unbelievable, so good!"
Kung Fu: "The structure is good for me-I need that discipline."
Amazon.com: "I have a book addiction. Jeff Bezos and I are having a secret affair! Or we should be, anyway, with the amount of books I'm buying."