Think different, says 'Produce Pete'
WNBC-TV's fruit-and-vegetable guru presents two timely recipes—and one timeless tip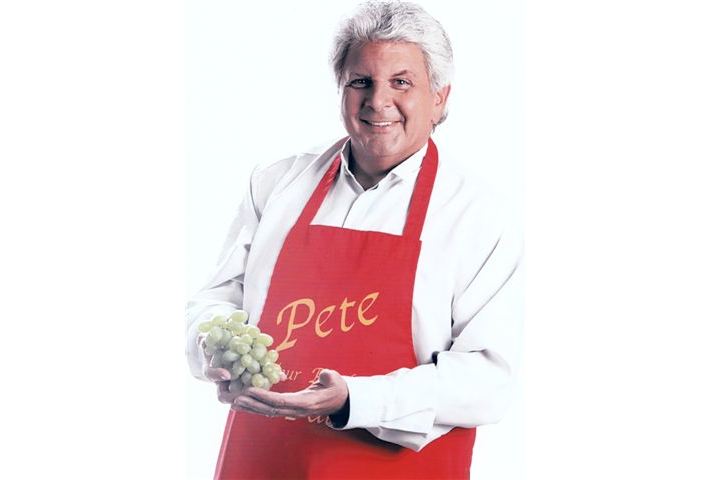 The biggest mistake people make with produce, says Pete Napolitano, Channel 4's "Produce Pete," is trying to buy items on sale too far in advance and store them. "Produce is meant to be bought and used right away," he declares.
But that doesn't mean you should shun low prices—in fact, it's quite the contrary, as Napolitano offers a practical tip that requires turning your thinking upside down. It's our habit to associate high price with good quality, he says, but we should shed that habit at the produce counter. The fact is, a fresh fruit or vegetable tends to be best when its price is low, because that's when it's available in greatest abundance.
"My wife hates it when I say 'cheap,' so I'll say 'reasonable,'" says this TV food icon. "Supply and demand determine price, so a lot of times the quality of something will be really good when it's—reasonable, because there's so much of it in. You don't have to look at it as closely as you do when it's expensive."
Napolitano also offers two tested recipes featuring foods available in March or April:
BAKED CRUSTY-CRUMB ASPARAGUS
Ingredients
•
18 to 24 spears asparagus
•
1 small yellow onion, chopped
•
3 cloves garlic, chopped
•
2 tablespoons Italian parsley, chopped
Preparing
Preheat oven to 350° F.
In a skillet of boiling water, gently put in asparagus and blanch. Drain the asparagus and place in a buttered shallow baking pan.
In a skillet, melt the butter and sauté the onion, garlic, parsley, and tarragon. Add the bread crumbs and mix well. Spoon the bread crumb mixture over the asparagus and cover the pan with foil. Bake for 10 to 15 minutes. Remove the foil and bake at 400° F for an additional 5 minutes.
EGGPLANT PARMESAN
Ingredients
•
vegetable or canola oil
Filling
•
1 pound shredded mozzarella cheese
•
1 cup Parmesan or Romano cheese grated
Preparing
Cut unpeeled eggplant lengthwise into slices about 1/8 to 1/4 inch thick. In a large bowl, pour in milk and eggs. Mix well. Dip eggplant into egg and milk mixture, then into bread crumbs, both sides. In a large frying pan, heat oil over medium-high heat until hot and fry eggplant until golden brown; drain on paper towels. Set aside.
In a large baking pan, place sauce on bottom of pan to cover and follow with a layer of eggplant slices, sauce, shredded mozzarella cheese, parmesan or Romano grated cheese, pinch of salt and repeat the layers, ending with tomato sauce and mozzarella cheese on very top.
Bake in preheated 350° oven for 25 minutes.