Vegan Oatmeal Cookies
Enjoy a healthier (and tastier) alternative to oatmeal raisin cookies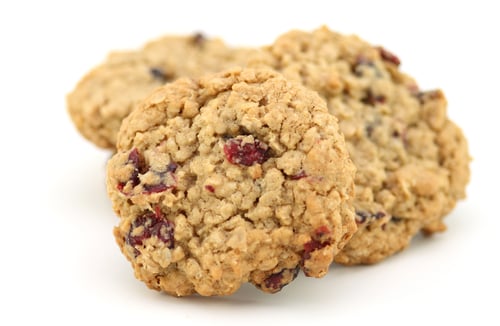 Ingredients
3/4 cup whole wheat pastry flour
1/2 teaspoon baking soda
1/2 teaspoon salt
1/2 teaspoon cinnamon
1/2 cup light brown sugar
1/4 cup turbinado or white sugar
2 tablespoons maple syrup OR honey
1/4 cup applesauce
1/4 cup vegetable oil
1/2 teaspoon vanilla
1 1/2 cup rolled oats
1/4 cup dried cranberries
1/4 cup dried pomegranates
1/2 cup walnuts
Instructions
1. Preheat oven to 350 degrees F.
2. In a medium-sized bowl, combine the whole-wheat flour, baking soda, salt and cinnamon. Set aside.
3. In another bowl, mix sugars, maple syrup (or honey), applesauce, oil and vanilla.
4. Add the dry mixture to the wet ingredients. Mix until combined.
5. Mix in the last four ingredients.
6. Roll into balls slightly smaller than a golf ball and bake for 8 to 10 minutes. Let sit on pan for about 10 minutes before moving to wire racks. Cookies will be mushy and seem underdone but will harden as they cool.
Editor-in-chief Jennifer Vreeland munching on cookies