Your Career, Act II
Making a midlife change in the work you do can be challenging, but the rewards may outweigh the risk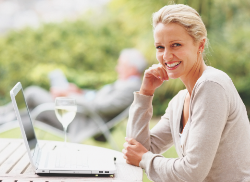 Lana Dimi Djian founded Perennial Plantings Inc. in 1989, and for decades she worked as a successful landscape designer. But one day she realized she'd outgrown her career. "I felt I needed to embrace a new perspective," recalls the Englewood Cliffs resident. "While I was spending time in clients' gardens, it was their homes that started to interest me more." So she reviewed her finances and cautiously threw caution to the wind, returning to school in 2011 to learn about real estate and procure a broker's license. "I had enough savings to survive what I knew would be lean months," recalls the 52-year-old.
Is a career change in the cards for you? Don't rule it out from simple fear— but do know what will be required. "First, consider the cash-flow implications of a change in income, which can happen if you need to be retrained or pursue a new professional credential," says Judy Haselton, president of Harmony Financial Advisors (harmony financial.com) in New York City. A financial expert can assess the effect this alteration will have on expenses, taxes and investments, and can help adjust your lifestyle accordingly. "I further stress the importance of keeping family au courant," notes Haselton. "They may need to chip in to help make your dream come true!"
Time off between jobs can also result in the loss of medical, life or disability insurance. Understand which benefits you'll give up—and be realistic about what that might mean at your age. Then look into options. "COBRA allows you to keep your previous employer's insurance for up to 36 months, and the Freelancers Union provides benefits to qualifying participants," advises Haselton.
Those who are unemployed or in a low-income position for a long period may not be eligible for a mortgage. So if you're planning to refinance a home, do it before the big switch, while it's still possible to obtain a favorable rate.
Finally, take into account the impact time out of the workforce will have on your accumulation of retirement savings. "You may need to toil longer in the new career than you would have in the old one if you're not adding to a retirement fund during the transition period," says Haselton.
For Dimidjian, this was an acceptable sacrifice. As a sales associate with the Alpine-based Prominent Properties Sotheby's International Realty, she focuses now on earth-friendly, energy- efficient green homes—proving, in a sense, that her landscape-design years weren't wasted. "I feel I've come full circle," she says.
As for her shift in careers, she has no regrets. "Though budgeting and saving are now bigger priorities," says Dimidjian, "every day brings new inspi- ration." —Francesca Moisin