5 Super Bowl Snack Alternatives
Give your football party's menu an international twist by serving these unconventional yet always enjoyable game-day dishes.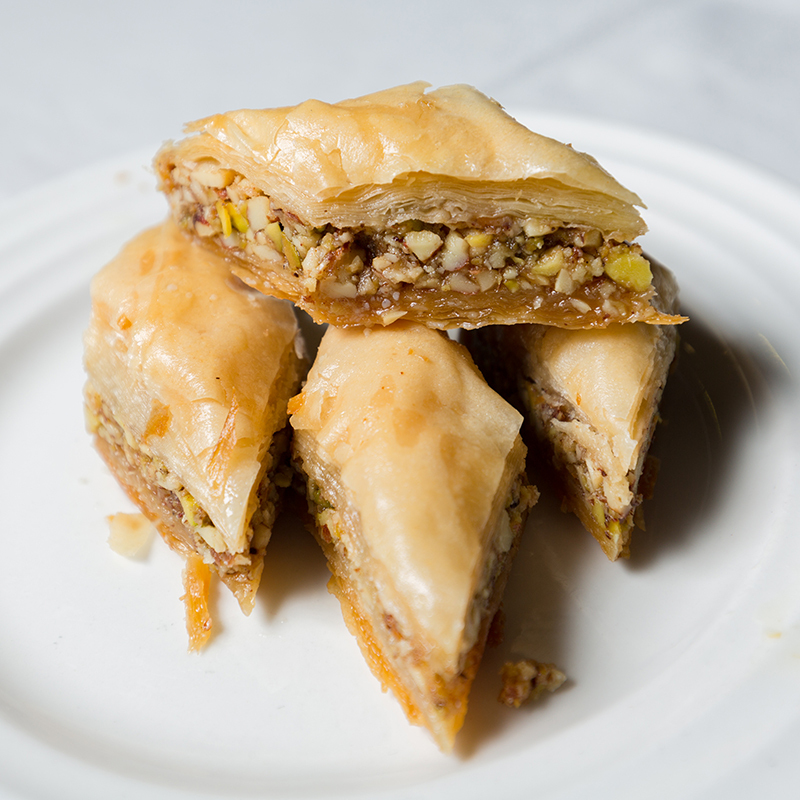 Whether or not you have a rooting interest in this Sunday's big game, you're probably looking forward to the Super Bowl—for reasons unrelated to football. The NFL's championship game is an unofficial holiday, and there will be countless watch parties happening in sports bars and homes across the country.
If you're hosting a party or heading to a friend's house to watch the Super Bowl, you're aware the food is just as important as the game, the commercials and the halftime show. There are game-day standards: pizza, wings, chips and guac, veggies and dip, and last week we encouraged you to consider a charcuterie board. But for those who want to give the menu a little twist, the below apps and desserts will show your outside-the-box thinking and certainly please your pals—they're just so tasty.
Just remember to call ahead. Though these dishes aren't traditional Super Bowl finger foods, restaurants will need time to prepare—but many can pull together platters within a few hours.
Baklava. Whether you choose the Greek or Turkish version, this pastry dessert is always a crowd pleaser. It's made of filo pastry, chopped nuts and syrup or honey. Don't be surprised if your crew polishes off a tray before the end of the first quarter!
*Available at Güllüoğlu Baklava & Café, 611 Anderson Ave., Cliffside Park, 201.945.1909
Beignets. Don't wait for Mardi Gras to get your hands on these French deep-fried pastries. They're light, fluffy and oh-so-enjoyable—even when the confectioners' sugar falls off and onto your favorite team's jersey.
*Available at Bourbon Street Beignet, 301 Center Ave., Westwood, 201.497.8429
Empanadas. These Cuban fried turnovers can be stuffed with either sweet or savory fillings. Popular flavors include beef, chicken, spicy chicken, pulled pork and guava and cheese.
*Available at Cuban Eddie's, 110 W. Shore Ave., Dumont, 201.338.2382; 216 Rivervale Rd., River Vale, 201.497.6888
Lumpiang shanghai. This bite-sized Filipino appetizer resembles a Chinese spring roll. Thin wrappers are typically stuffed with seasoned ground chicken or pork, carrots and water chestnuts, then deep fried.
*Available at Tropical Hut, 104 W. Pleasant Ave., Maywood, 201.843.5550
Pierogies. These Polish dumplings are made with unleavened dough stuffed with sweet or savory fillings, from sauerkraut and mushrooms to potatoes and cheese. They're then boiled or fried and traditionally served with sour cream and fried onions.
*Available at Royal Warsaw, 871 River Dr., Elmwood Park, 201.794.9277
What are you serving at your Super Bowl party? Tell us on Instagram, and remember to tag @bergenmagnj in your photos this weekend for a chance to be featured!