Holiday Cookies Recipe + 7 Sweet Spots in Bergen
On Dec. 4, National Cookie Day, treat yourself to some of the great cookies in Bergen County—or make these yummy sugar cookies at home.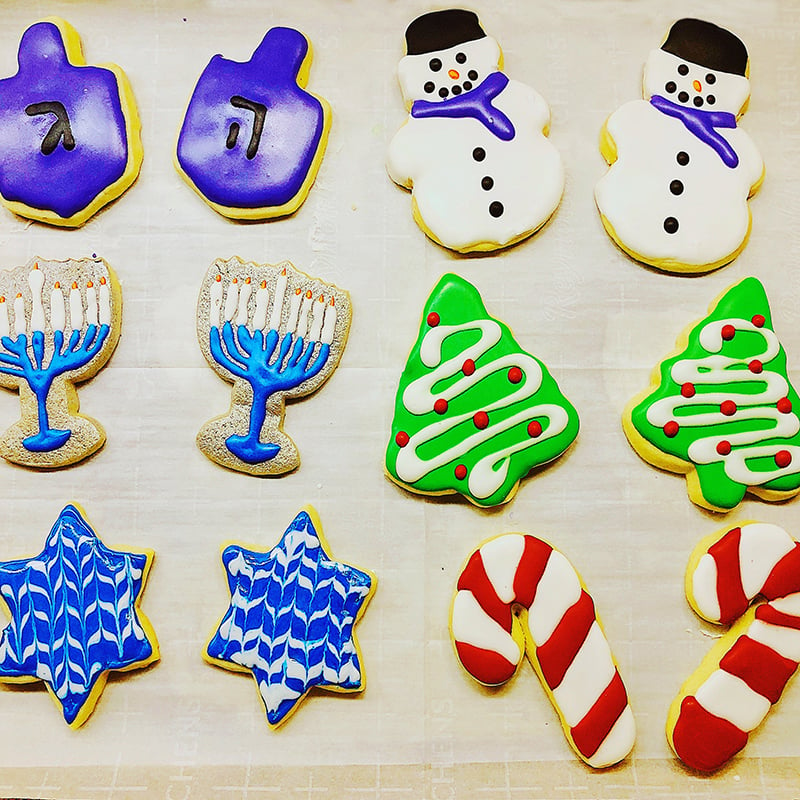 What November is to pies, December is to cookies—you can never have too many different flavors. Sugar cookies, gingerbread, oatmeal raisin or good ol' chocolate chip, the holiday season is about sweets—and, let's be honest, most of us are waiting until the new year to worry about our waistlines.
So, for the next few weeks leading up to Christmas, BERGEN will be sharing exclusive and delicious cookie recipes in our newsletter. Want us to feature yours? Email your favorite cookie recipe to editor Rita Guarna at rita.guarna@wainscotmedia.com!
But first, right in time for National Cookie Day on Saturday, Dec. 4, check out the first recipe in our lineup courtesy of Woodcliff Lake's Talia Kornfeld, who owns the bake shop 500 Spatulas (and runs Instagram handle @500spatulas). "These cookies evoke such fond food memories of snowy pajama movie nights, made complete with hot cocoa," Kornfeld says. Enjoy!
Holiday Sugar Cookies
Yields: 2-3 dozen cookies
Ingredients:
2¼ cups all-purpose flour, spooned into a measuring cup and leveled off
½ tsp. baking powder
¼ tsp. salt
¾ cup unsalted butter, room temperature
¾ cup granulated sugar
1 large egg, room temperature
2 tsp. vanilla extract
Directions:
In a medium bowl, whisk together the flour, baking powder and salt. Set aside. In a large bowl using a hand mixer or a stand mixer fitted with a paddle attachment, beat the butter and sugar together on high speed until smooth. Add the egg and vanilla, and beat until combined, about 1 minute. Scrape down the sides with a rubber spatula and beat again as needed. Add the dry ingredients to the wet ingredients and mix on low until just combined.
Divide the dough into two equal parts and place one portion in the center of a parchment paper sheet. Place another sheet directly on top of the dough and use a rolling pin to flatten to approximately ¼-inch thick. Place the flattened dough with the parchments paper on a baking sheet and repeat with the second portion. Put the pan with both dough portions into the refrigerator for 1–2 hours. If chilling for longer than 2 hours, add a layer of plastic wrap.
Once chilled, preheat the oven to 350°F. Line two baking sheets with parchment paper. Remove the dough from the fridge, transfer to a lightly floured surface and cut into desired shapes. Place the cut shapes on the prepared baking sheets about 3 inches apart. Refrigerate the whole baking sheet for 10 minutes, then bake for 11–12 minutes, until lightly browned just around the edges.
Re-roll the remaining dough and continue cutting until all is used (if your dough is getting too soft, let it rest in the fridge for 15 minutes). Allow cookies to cool on the baking sheet for 5 minutes, then transfer to a wire rack to cool completely before packing up or decorating. Decorate with buttercream and some festive sprinkles or enjoy these buttery cookies on their own!
Note: Plain or decorated cookies stay fresh for 5 days when stored in an airtight container at room temperature. You can also fully wrap the dough in plastic wrap and freeze up to 3 months. The baked undecorated cookies also freeze like a dream! Allow cookies to come to room temperature prior to decorating.
Prefer someone else to do the baking for you? These brick-and-mortar bakeries in Bergen County are known for their delicious cookies. Just place your order ASAP—things get busy this time of year!
Check out the rest of BERGEN's holiday cookie recipes below: